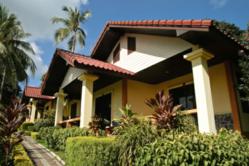 Florida's boomerang buyers who purchase foreclosed homes perfectly exemplify and give a positive spin to the old 'What goes around comes around' idiom.
Orlando, Florida (PRWEB) June 02, 2013
Best Rate Home Loans, a national online network of real estate professionals approved to work in loans through the Federal Housing Agency (FHA), reports that the most recent analytics numbers for home sales in Florida show a treasure trove of foreclosed properties selling at well below market value. And with potential homeowners looking to buy again several years after losing their home to a foreclosure or short sale, Florida's second highest foreclosure rate nationally in April of 2013 could not present an opportunity that is more ripe for the picking than what these "boomerang buyers" can achieve through the assistance of an FHA loan.
While the first several months of 2013 have seen rapid financial growth in the national real estate market, Florida continues to experience foreclosure issues, ranking second only behind Nevada, with one in every 363 existing homes taking action on foreclosure in April, according to analytics company RealtyTrac. While this data may not make state officials happy, it's a karmic blessing in disguise for potential homeowners who've gotten their financial footing back since the recession and are looking to buy again after a foreclosure or short sale they experienced three or more years ago (the amount of time needed to become FHA-eligible once again).
CLICK HERE to check FHA loan eligibility.
Because foreclosure rates are so high in Florida, a surplus of amazing homes are selling at criminally low prices. Florida homes that have come back onto the market after a foreclosure had a median sales price of $91,000 in March, the most recent month on record for sales prices. That's $26,000 less than the national foreclosure median sales price, $35,000 less than the median sales price for non-foreclosure or short sale Florida homes, and $74,000 less than the median sales price for non-foreclosure or short sale homes nationally. To top it off, the report also sees savings on foreclosure homes in every one of the top ten Florida metros from the previous month, signifying that there may be no better time or place to save on foreclosure homes for FHA Buy Again After borrowers than now in the Sunshine State.
When you factor in the low FHA mortgage rates and down payment rates starting at just 3.5 percent—as opposed to what could be 20 percent from conventional lenders, who also often require seven years between a foreclosure and a next-home purchase—boomerang buyers with just a small amount of disposable income could easily get back on the road to homeownership. After all, 3.5 percent down on that state median foreclosure price of $91,000 is only $3,185, which is only 6.67 percent of the median household income in Florida of $47,827, as reported by the US Census Bureau.
"It's amazing how low foreclosure homes are selling for across the state of Florida, and how helpful an FHA loan can be in acquiring these properties," says Chris Brown, an FHA approved mortgage expert in Orlando, Florida. "And it's simply a great coincidence that many of the folks that were forced into foreclosure or short sale during the real estate bust are now eligible to take advantage of incredibly low home prices due to the same situation that they went through three-plus years ago."
In this sense, Florida's boomerang buyers perfectly exemplify and give a positive spin to the old "What goes around comes around" idiom.
About FHA loans:
FHA loans have been used to insure more than 34 million homes since the program began in 1934.
FHA home loans attract a wide array of home buyers by offering low down payment options, flexible credit standards and more diverse income calculations than the difficult underwriting laws of a conventional mortgage.
FHA-loan bonuses:
Low down payment
Low credit scores may qualify
Streamlined refinance option
All-in-one home renewals
Click Here to apply for an FHA Loan.
Best Rate Home Loans is a national professional network of approved mortgage lenders and loan providers who specialize in FHA loans and other low down payment or streamlined refinance options. For further details on the Boomerang Home Buyer Program, call 888-269-5585.