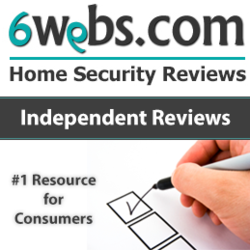 6Webs.com is the number one resource for independent reviews of home security systems.
Tampa Bay, FL (PRWEB) February 22, 2013
6Webs.com, the independent security system reviews website, assists consumers in purchasing the best alarm system for their family by publishing independent reviews and rankings of the nation's top home security companies. 6Webs.com recently announced their rankings of the best Florida home security companies.
Now Florida residents have an independent resource that provides them side-by-side comparisons of the features and services offered by the leading home security companies. Reviewing monitoring plans, pricing, equipment, warranties and customer service records are just some of the aspects that are reviewed and compared at http://www.6webs.com.
Florida, also known as the Sunshine State, is home to over 19 million residents. According to the Florida Statistical Analysis Center, there were 170,223 burglaries in 2011. That is an increase from the 2010 figures. The total property crime rates are over the 650,000 mark. The need for home and family safety has never been greater.
According to Tim Smythe, the senior editor for 6Webs.com, "FrontPoint Security was voted the best security company in the state of Florida for several reasons. One, they maintain an outstanding customer service record. This is the main reason why FrontPoint Security won the 6Webs.com Gold Award in 2012 and yet again in 2013. Two, their outstanding customer service combined with their state-of-the-art cellular monitoring services and brand named equipment makes FrontPoint Security the top choice among the 6Webs.com editors and consumers alike."
Credibility and reliability are often the major concerns when deciding which home security company to go with and it is no different to Florida residents. A home security company that is accredited with the Better Business Bureau and who maintains an above average rating helps consumers put that company at the top of the list. Brand name home security equipment and a fast response time also play an important role when considering the reliability of any home security company.
The top companies ranked on the 6Webs.com website were all highly rated when it comes to credibility and reliability. Taking third place in this year's overall results is ADT Security. ADT Security has been in business for over 100 years and offers their customers professional installation services along with top-notch equipment and services. To read the full ADT Security review, visit 6Webs.com.
About 6Webs.com
6Webs.com is the nation's number one provider of independent and unbiased home security systems reviews. Each year the 6Webs.com review team investigates the top home security systems providers and ranks them on their website according to aspects which are important to consumers. Consumers can also take advantage of the educational information that 6Webs.com releases on a regular basis. Their latest article on, "ADT Monthly Fee" is available for viewing on their website.