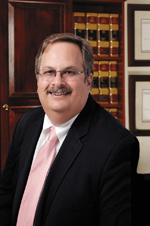 Our law firm knows what insurance companies require from their policyholders in most claims, and we can help a homeowner make sure they are complying with their policy's requirements.
Palm Beach Gardens, FL (PRWEB) July 15, 2011
Although the Florida hurricane season won't peak until later this summer and in the fall, a National Hurricane Center specialist told the Orlando Sentinel this week that July can still bring its share of intense storms.
That's why it's important for South Florida residents to take the time now to review their homeowner's insurance policies – specifically provisions dealing with catastrophic events such as hurricanes, tropical storms, sinkholes, wind damage and water intrusion, South Florida lawyer David Weiss says.
Weiss, an experienced Florida first-party claims attorney with the law firm of Gordon & Doner, P.A., says the failure to understand and follow the policy's terms and conditions could lead to a reduced or denied recovery of a catastrophic event claim.
"Our law firm knows what insurance companies require from their policyholders in most claims, and we can help a homeowner make sure they are complying with their policy's requirements," Weiss says. "We want homeowners to get every dollar they are entitled to get in their claim."
In the past, countless tropical storms have impacted the state during the month of July, including Tropical Storm Bonnie a year ago.
Should a catastrophic weather event strike South Florida, causing damage to homes and personal property, Weiss advises homeowner's insurance policyholders to:

Notify their insurance company;
Save and preserve the damaged property;
Gather receipts, invoices and proofs of purchase; and
Take photographs of everything that has been damaged.
"If an insurance company can show it was prejudiced by an insured's failure to provide the documents it requests, it may try to deny coverage of the claim," Weiss says. "You also need to take reasonable steps to minimize your damages, which will depend on the type of property involved and the extent of the loss. Do a few shingles need to be replaced, or a whole roof?"
After a claim is filed, the insurance company will assign an adjuster to oversee the claim. The adjuster's main duties will be to create a record of the losses in a storm and place a dollar figure on what the home was worth prior to the claim as well as how much money the policyholder will need to repair the home.
According to Weiss, real construction is real expensive, and homeowners need to be wary of insurance company adjusters who fall short of doing their job properly.
"Insurance companies need to be held accountable," the Florida lawyer says.
The policyholder may need to submit a "proof of loss" if the insurance company requests it. This is a sworn statement regarding the time and origin of loss, interest in the property and actual cash value of the damages, Weiss explains.
Most insurance companies also reserve the right to ask for an examination under oath. Weiss points out that the insurance companies are represented by attorneys at these examinations.
"That makes it crucial for the insured to have a lawyer by their side as well," he says. "An attorney can help to prepare the policyholder for the examination and, most importantly, to be there at their side throughout it.
"The insurance company will be out to protect its profits. Your attorney, however, will be out to protect your rights."
About Gordon & Doner
The South Florida law firm of Gordon & Doner has been serving the community for more than 17 years, with offices in Palm Beach Gardens, Stuart, Pembroke Pines and Fort Lauderdale. The firm's practice areas include personal injury, wrongful death, medical malpractice, nursing home abuse, defective products, workers' compensation, immigration law and veterans' disability claims in addition to homeowners' claims, business interruption claims and other business litigation. To learn more about the firm's first-party insurance claims lawyers, call Gordon & Doner at (561) 799-5070 or use its convenient online form.
###