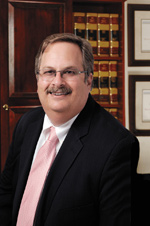 If our lawmakers won't stand up for the rights of homeowners, the attorneys of Gordon & Doner surely wil. We work hard to make sure our clients are fully compensated for their losses.
Palm Beach Gardens, FL (PRWEB) May 19, 2011
Palm Beach Gardens first-party claims lawyer David Weiss said today that he strongly opposes an insurance reform bill that he says could end up doing as much harm to Florida residential property owners as any hurricane.
In addition to many other restrictions on Florida homeowners' rights, H.B. 408 would permit insurance companies to withhold payment for full replacement value of a damaged home until the owner / policyholder files receipts from a contractor, according to the Palm Beach Post. Governor Rick Scott has until May 26 to sign it into law.
"It saddens me that the insurance companies and their lobbyists hoodwinked our legislature into believing that the only way to keep insurance rates down or to attract new insurance companies to Florida was to allow them to withhold paying the full value of claims until the homeowner has to reach into their own funds to repair the damages they've suffered in one of the hurricanes or other severe storms that frequently hit our state," Weiss said.
The Palm Beach Gardens attorney formerly worked with three of the largest insurance defense law firms in South Florida before joining Gordon & Doner, where he now represents individuals and businesses who have been wrongfully denied their policy claims or the full amounts they are entitled to receive.
"Even though a policyholder may have been paying premiums for years, they won't be allowed to recover the full value of their claim unless they have the funds available to repair their damaged home and wait for reimbursement," Weiss said.
"That completely undermines the fundamental purpose of property insurance, which is to give individuals and businesses some peace of mind and to restore them as quickly as possible to the position they were in before disaster struck."
According to The Post, the bill also would reduce the hurricane claims filing deadline from five years to three years, and it would limit sinkhole damage claims by allowing insurers to offer only catastrophic sinkhole insurance or coverage that excludes other structures, such as swimming pools or garages.
"Every year, thousands of Florida homeowners need to make a claim under their insurance policies due to damage from hurricanes, tropical storms and other disasters," Weiss said. "That means this revision is going to do harm throughout the state."
Given the changes in the law that could be ahead, it's more important than ever for homeowners to contact an experienced Florida first-party insurance claims lawyer to review their residential property coverage and determine their rights when a storm hits, Weiss said.
"If our lawmakers won't stand up for the rights of homeowners, the attorneys of Gordon & Doner surely will," Weiss said. "We work hard to make sure our clients are fully compensated for their losses."
About Gordon & Doner
The South Florida law firm of Gordon & Doner has been serving the community for more than 17 years, with offices in Palm Beach Gardens, Stuart, Pembroke Pines and Fort Lauderdale. The firm's practice areas include personal injury, wrongful death, medical malpractice, nursing home abuse, defective products, workers' compensation, immigration law and veterans' disability claims in addition to homeowners' claims, business interruption claims and other business litigation. To learn more about the firm's first-party insurance claims lawyers, call Gordon & Doner at (561) 799-5070 or use its convenient online form.
###