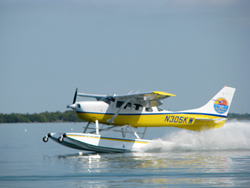 When you come in by seaplane, people know you've arrived.
Key West, FL (PRWEB) July 31, 2014
Key West Seaplanes® is featured in a story on TropixTraveler detailing options for island hopping via seaplane through The Florida Keys. Travel writer Paul Love entices readers to experience the waters and the air of this beautiful region via the most versatile mode of transportation, the seaplane.
The TropixTraveler article draws readers in with, "Once you view the Florida Keys from the window of a seaplane, it's easy to believe that's how the beauty of the tropical archipelago is truly meant to be appreciated. Taking in the palm tree-covered islands, the bridges that connect them and the emerald water that surrounds them from about 500 feet up is enough to impart a sensory overload of jaw- dropping scenery." says writer, Love. But if these words won't draw the reader in, the photos featured certainly will. Captivating images include those of a Key West Seaplanes® aircraft circling over the world-famous Little Palm Island in preparation for landing. This is just one of the many rare gems that make up The Florida Keys, and one that is accessible only via seaplane or via the island's private ferry boat.
Key West Seaplanes® pilot Julie Ann Floyd shares, "Our seaplanes are very versatile and are the most direct way to escape your daily life en route to Paradise. Each of our seaplanes is equipped with amphibious capabilities which means they can land on water and also on land. So, you can connect with one of our seaplanes at an airport such as Miami International and head straight to a water-based tropical destination such as Little Palm Island or Bimini via seaplane." The company also offers flights from every point on the mainland which includes small airports such as Boca Raton, Naples and Ft. Myers. Of course, they also offer flights from many water-based points such as Watson Island Seaplane Base, and private docks and beaches.
Writer Love continues the TropixTraveler article with information about Key West Seaplanes® stating, "Flights they offer range from 30-minute aerial tours of Key West, where you'll get an amazing overview of the island and see sights like the Southernmost Point, Fort Zachary Taylor and Christmas Tree Island, to day-long island-hopping tours of the Keys. The amphibious planes can land at uninhabited islands for the ultimate private getaway or pull up at a dock for breakfast, lunch or dinner at Little Palm Island or the Moorings resorts, or anywhere in Islamorada, Key Largo and Ocean Reef, among other destinations. "When you come in by seaplane," Floyd adds, "people know you've arrived." Along the way you'll buzz by iconic Keys landmarks like the Seven Mile Bridge and the Alligator Reef Lighthouse from a perspective few ever encounter. Passengers even spot dolphins, sea turtles and other sea life in the crystal-clear water below."
If that is not enough to convince readers to travel with Key West Seaplanes®, the TropixTraveler artlcle concludes with, "Want to go on a more international trip? No problem (as long as you have a passport). Key West Seaplanes picks up travelers in any city or any suitable body of water in the Keys or mainland Florida, and can head out for day trips to the Bahamas, including destinations like Bimini, Nassau, Freeport and Paradise Island. However long your flight or where your destination, the views alone will help make it the flight of a lifetime."
TropixTraveler.com was created to be a one-stop resource for research, travel tips and reservations by assisting users on their quest to discover the destination in the sun that's right for each individual, along with the exciting activities, savory cuisines and most importantly the perfect hotel to make each trip everything a person may want it to be. Those at the helm of TropixTraveler include a team of professional travel writers, editors and photojournalists dedicated to sharing their knowledge and firsthand experiences in tropical destinations to help users create their own perfect escape.
Key West Seaplanes® is based in Key West and was formed in 2009. The premier seaplane charter company offers private seaplane and airplane charters to/from all points on the Florida mainland, The Florida Keys and all the Bahamian and Caribbean islands. All flights are private, exclusive charters that come and go as travelers schedule them. The company's official website, KeyWestSeaplanes.com offers booking options online for those desiring the easiest, most effective means of arranging their travel.