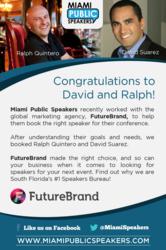 "Perfect Speakers!" - Chris Nurko - FutureBrand, Global Chairman
Miami Beach, FL (PRWEB) April 25, 2013
Miami Public Speakers has quickly risen to become the number one ranked Florida Speakers Bureau. It is no surprise that global marketing agencies like FutureBrand, a brand strategy and design consultancy of the McCann-Erickson WorldGroup based in the UK tapped the top rated speakers bureau to help them in getting the best public speakers for their event.
Chris Nurko, the Global Chairman of FutureBrand Worldwide of has worked over the past 20 years in the area of brand marketing around the world. His clients have included major banks, airlines, petrol companies, consumer packaged goods and charities for which he has developed creative and strategic solutions. Chris knows talent and has decades of business experience, when he received the speakers recommendation for his event - Chris said "Perfect Speakers". The speakers matched exactly what he was looking for and he was very happy with how quickly and professionally the speakers bureau worked to take care of all the details.
After the speakers bureau consulted with Chris about the goals for his organization's annual conference and learning more about the audience and background, Miami Public Speakers made the recommendation to book Serial Entrepreneur, Ralph Quintero and Fortune 500 Trainer, David Suarez. Both speakers delivered a highly customized presentation for FutureBrand that were a major hit with the audience.
If your organization is looking to hire the perfect speaker for your next event. Reach out to Miami Public Speakers at http://miamipublicspeakers.com