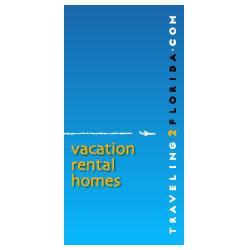 Savvy travelers are well aware that the sooner you start planning your summer vacation, the better your accommodations and pricing will be
Orlando, FL (PRWEB) February 26, 2008
While the weather outside may still be dreary, summer is just around the corner -- and Traveling2Florida.com wants to remind you that it's not too early to begin thinking about booking a Florida vacation for the summer. With most children out of school and many families looking for ways to entertain them, plus warm days coaxing office workers out into the sunshine, your ideal vacation rental home may be snapped up, tickets to attractions may be scarce, and airfare prices are likely to start creeping skyward.
Your best bet is to start planning your Florida vacation right now, if you haven't already. Take the time to look at sites that offer Florida vacation rentals to see what is available for the number of people with whom you will be traveling and the area that you are hoping to visit. Remember that a vacation rental home can save you money over a hotel and can bring you amenities that hotels can't match, from a private swimming pool or hot tub to a fully equipped kitchen.
"Savvy travelers are well aware that the sooner you start planning your summer vacation, the better your accommodations and pricing will be," says Fraser Hannah, owner of Traveling2Florida.com. "We recommend that instead of waiting until May, when many of the best homes are already booked and prices are at their peak, people start their search now for a vacation rental home."
Once your summer vacation rental home has been booked, you can turn to one of the many websites that offer airfare comparisons to find the best deal for your trip. There are also services that will help you buy advance tickets to many of Florida's top attractions. Booking early means that you can spend the weeks leading up to your Florida vacation without worry, and that you can fully enjoy your trip knowing that you got the best deals possible.
About Traveling2Florida:
Traveling2florida.com was founded in 2003 in response to the frustration felt at the lack of vision shown by many of the existing vacation rental sites. Traveling2Florida.com now connects thousands of travelers directly with the owners of high-quality vacation rentals in Florida, from Orlando to the Florida Keys. For more information about listing rental properties on the site or about finding a property to rent, please visit http://www.traveling2florida.com.
###