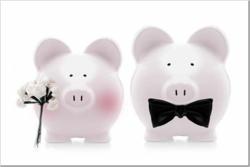 In order to prevent costly mistakes, I advise clients, 'what is important to another couple may not be the same thing that is most important to you and your fiancée. Before you go spending your first dollar, decide where your priorities lie.'
Delray Beach, FL (PRWEB) June 30, 2012
In today's tough economy, most of us have had to make a few sacrifices. When it comes to a Bride and Groom's special day, there is no exception. While a fancy wedding might still be considered a luxury item, it's not easy to kiss goodbye a dream that has been building since a very young age. This experienced wedding planner releases tips for the best remedy for this potential heartbreak.
When it comes to a wedding the possibilities are endless, the options are infinitive and a client struggles to have it all. This goes with the territory of being a Bride or Groom-to-be, but sooner or later something has to give and they may be hit with the reality that they 1) have a budget and 2) that they may have to settle for less than they had originally hoped.
The first step in coming to terms with bridal budget reality is differentiating between needs and wants. While this is a lesson parents would teach time and time again as kids; it will most certainly come up as one plans a wedding. So before using the department store bar-code gun to scan everything in sight, or before putting this month's student loan payment towards the rental of a dozen swans…here are some things worth keeping in mind:
"Is it really necessary?" While this seems like a very basic question, it is one that brides forget many times. It's a constant battle of need versus want. While getting married is meant to be about the bride and groom, it is very easy to get caught up in the excitement of wedding planning. So the question to ask is- how badly is a chocolate fountain needed when the hotel offers a cake that is already included in the wedding package? And are hand-made invitations a must-have, or will a pre-selected design suffice? The idea is to simply brainstorm and budget before dishing out funds that might be regretted later. While it's fine to hang on to the things that may invoke a more rapid heartbeat, it is important to really look at whether or not that photo booth is needed, how badly it is wanted and if there is another available alternative.
"Will guests really remember this?" This is an excellent question. While a bride and groom want their wedding guests to remember the day for eternity, there are many parts of a wedding that guests usually forget soon thereafter. Unfortunately, these are some things that a couple may have spent a lot of money and time on. So, before deciding to have a top band from another state or region that can cost twice the amount of a local band, it is important to ask "Will guests really remember this and is it really necessary?" Maybe a small change in expectations will make all the difference.
"Can these funds be used for something else?" A couple works very hard in preparing for and saving for their wedding. While not the most fun questions to toss around, chances are that it will pay off in the end. Before investing in a honeymoon tallying a grand per night, it is important to make sure that those funds aren't badly needed somewhere else. Perhaps now is the time for a house, or to pay off a big debt. Sleeping well at night can be a great way to start off a new marriage.
Differentiating between need versus want is clearly not the best part about planning a wedding and certainly not the part that little girls have dreamed of since they wore their mother's nightgown on their heads and paraded down the stairs, but they will thank themselves later. The more one plays the need-versus-want game, the more likely it is that they will be able to stay on task and on budget.
Florida Wedding Planner, Aviva Samuels from Kiss the Planner has been helping clients with wedding and other special events for nearly 15 years in the South Florida market. Aviva takes pride in the fine art of being able to decipher between wedding needs versus wedding wants and can help you stick to a realistic budget when planning the wedding of your dreams. For more information go to http://www.kisstheplanner.com.