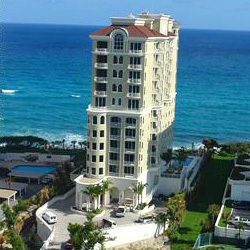 Multiple buyers were competing for this property… just like the boom times
Palm Beach, FL (PRWEB) November 18, 2009
WCI Communities sold its last remaining condo in Palm Beach County – at One Singer Island, Singer Island, Florida – at 70 percent off the $2.8 million opening day price, reports Kevin Dickenson, licensed Florida Realtor with StealThatCondo.com.
WCI Communities, a luxury homebuilder based in Bonita Springs, filed Chapter 11 bankruptcy protection over a year ago and announced on September 3, 2009 that it emerged from Chapter 11 as a newly reorganized, private company, eliminating more than $2 billion in debt and liabilities.
WCI's One Singer Island is a 15-unit luxury residential oceanfront condo designed for individuals seeking the utmost in privacy. According to Dickenson, "My client just received an amazing deal here, buying at $825,600 or $284 per square foot for a three-bedroom decorator-ready condo. On October 30, 2009, I sold two $1 million dollar decorator-ready condos priced at $317 and $354 per square foot at WCI's formerly-owned Resort at Singer Island – now named the Palm Beach Marriott Singer Island Beach Resort & Spa after the condo's October 29, 2009 acquisition by new owner Urgo Hotels." "However, it is this most recent One Singer Island sale at $284 per square foot that may represent a new low for brand-new construction on the Island," he remarked.
Dickenson continued, "These days, the number one question buyers ask is, 'do you think we are at the bottom yet?'" I respond by telling them that real estate is a local market and it can change from one building or community to the next. You may be looking in a tower that only has resales with just a few units on the market and two towers away the developer is sitting with 60 percent of the inventory. When you find an area with high developer or speculator inventory, it's an indicator that sale prices can be volatile. While Singer Island doesn't have anywhere near the inventory of Miami, we need to keep an eye on that market because it's a key indicator."
"During the boom, we had individuals speculating in the real estate market, but now the big fish have moved into South Florida and they are snapping up distress sales from developers and banks," Dickenson added. Dickenson also points out that Starwood Capital Group, TPG Capital, Perry Capital and WLR LeFrak reached a deal last month with the Federal Deposit Insurance Corporation (FDIC) to acquire a $4.5 billion dollar portfolio from failed Chicago-based Corus Bank, NA. The portfolio sold for 60 percent of the unpaid principal balance, according to a press release by Starwood Capital Group. Corus' holdings in South Florida were $739 million in 15 condos and condo conversion loans and $51.9 million in one repossessed Miami tower, according to the South Florida Business Journal.
Kevin Dickenson and his team at Prudential Florida Realty are based in Palm Beach Gardens, Florida. For additional information, Kevin can be contacted at 561.262.8243, or visit his website at StealThatCondo.com
###