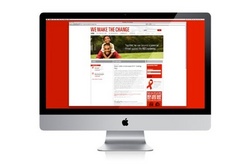 Tallahassee, Fla. (Vocus) June 3, 2010
The Florida Department of Health (DOH) today announced the launch of its newly redesigned HIV/AIDS prevention website at http://www.wemakethechange.com. The website was originally developed to complement the We Make the Change program, a statewide media campaign designed to increase awareness about HIV/AIDS and its impact on minority communities. The website serves as a portal for Florida's Hispanic, African-American, Haitian and MSM (Men Who Have Sex with Men) populations to access resources regarding HIV/AIDS prevention.
The redesigned website provides a user-friendly experience and more enhanced features that can help Floridians learn about the various HIV/AIDS prevention opportunities available throughout the state. Some of the new features include a comprehensive press room, the latest news and articles regarding HIV/AIDS prevention, downloads for community outreach efforts and e-features like community stories and volunteer opportunities.
WeMaketheChange.com also provides extensive information regarding the numerous We Make the Change community initiatives such as Stop the Spread, Sistas Organizing to Survive, Man up, Latinas Unidas Contra SIDA and the AME faith-based initiative. Various county-specific and noteworthy programs are also highlighted.
"The campaign has grown tremendously over the past 10 years and we are excited to relaunch a web component that reflects the campaign's growth and success," said April Hogan, Bureau of HIV/AIDS, HIV Prevention Program Supervisor. "It's a great one-stop resource for HIV prevention information."
We Make the Change is a multi-faceted, nationally recognized awareness program. The campaign includes event outreach, both traditional and nontraditional advertising, online components, text-messaging service to help identify local testing centers, and community based programs.
Contact
Laura D'Abbondanza
407-629-9484 ext. 228
###