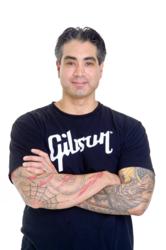 "I cut thru all the confusion of approaching the guitar. I give you the tools you need to have fun and start jamming right away with songs you want to play, while at the same time teaching you the fundamental principles of the instrument."
Fort Lauderdale, FL (PRWEB) October 25, 2011
For absolute beginners, that first guitar teacher can have an incredible impact on their future musical experience—good or bad. Unfortunately, most guitar teachers offer no real plan, no real blueprint on how to learn the guitar. Dyce's lessons, however, are completely different.
The series is designed with the big picture in mind: each lesson plan flows logically to the next. Students learn the guitar the right way, building on concepts, reinforcing their knowledge, building confidence—and most importantly—having fun!
Dyce's students learn how to play the guitar like the pros do, right from their very first lesson. Each lesson has a clear focus, and is targeted specifically for the absolute beginner. Sample lessons include introductory chords for the acoustic and electric alike, how to put these chords together into simple fun grooves, and then taking these grooves and learning how to have fun with them—and playing some actual songs.
Beginning students love the fact that they will almost immediately be playing songs that their friends will instantly recognize—not just endless scales and exercises! Dyce makes learning easy, because he explains concepts the right way. We all learn our first language the easy way, and Dyce teaches music as a language to be learned, effortlessly.
Dyce Kimura is a bona-fide full-time guitar instructor, providing top-flight Fort Lauderdale Guitar Lessons. He has risen straight to the top of the competitive Miami scene as a recording artist, singer, rock n roll / blues guitarist and instructor! When Dyce is not teaching others, he can be found playing Christian contemporary, praise and worship music, and serving as both ministry and worship leader.
For more information on Fort Lauderdale Guitar Teacher Dyce Kimura's Absolute Beginner Guitar Lesson DVD series, contact Dyce directly at dyce(at)dycekimura(dot)com.
# # #