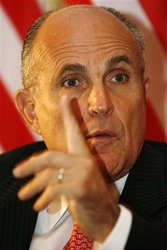 You and I should be making the decisions about what kind of health care we get; with our doctors, not with a government bureaucrat
Jacksonville, FL (PRWEB) October 30, 2007
Health insurance is now in the forefront of the 2008 campaign with each candidate clearly stating what their positions are.
"Florida is in a unique position to change the face of health insurance and this election they will get a chance to do it," said insurance consultant Moran. "This election its about health insurance, as well as ending the war in Iraq". First John Edwards released his plan for health care, then Clinton, and last week -Biden. Now the latest candidate to jump on the health care bandwagon is Rudy Giuliani. "The Democrats are offering broad health insurance initiatives, the Republicans, tax breaks.
Giuliani in a recent radio ad, using his prostate illness to illustrate a message that the "private insurance market will provide the best care" said, I had prostate cancer, five, six years ago... "In the United States, with private insurance, "my chance of surviving prostate cancer, was 82%." "In England, under socialized medicine, my chance of survival would have been 44%."
"Socialized medicine is now the new anti-Clinton buzz word", it is how Giuliani and other Republicans refer to Democrat Hillary "Clinton's health insurance plan, which would require every American to buy health insurance" - either through their jobs or through an affordable program modeled on Medicare, or the federal employee health plan said Moran.
While Clinton wants a total reformation to the health insurance system in America, the Giuliani plan is to give families a $15,000 tax deduction to buy private health insurance policies, instead of depending on employer-provided insurance.
Moran said "Giuliani believes offering a tax cut will lower rates and improve benefits." He said, "If enough people choose to buy private policies, insurance costs will drop" and quality will improve, he says. He has predicted "the effect of his health insurance plan would be similar to the way prices have fallen for plasma televisions."
Giuliani (R) is set to begin a direct-mail and radio campaign of his own aimed at persuading unaligned voters to back his candidacy.
"You and I should be making the decisions about what kind of health care we get; with our doctors, not with a government bureaucrat," Giuliani says in the radio ad. Their new mail out from the Giuliani camp says, "Rudy Giuliani's health care plan offers freedom to choose a health plan that fits your needs and the freedom to keep it if you change jobs, and does not amount to 'government mandated health insurance' or require a tax increase."
About Florida Health Insurance Web
Florida Health Insurance Web is a Florida health insurance consulting service. Find out about health insurance from the experts in a free online or phone consultation. You can get insurance quotes, search rates online by city, read current insurance news and events. Florida Health Insurance Consultants, best rates and free quotes, please contact Morgan Moran at 800) 554-9142 - or on the web at http://www.FloridaHealthInsuranceWeb.com
###