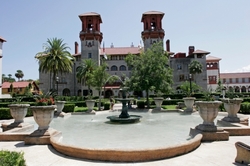 Saint Augustine, FL (PRWEB) July 7, 2009
Palladium Realty Group, the premier real estate firm serving Central and Coastal Florida proudly announced the launch of its newly enhanced website http://www.PalladiumRealtyGroup.com. The company specializes in the region's finest private clubs and resorts, and the website will provide buyers with a singular source of information regarding Florida resort real estate.
The resort lifestyle is becoming increasingly popular with homebuyers for its wide range of amenities and services. The Palladium Realty Group website provides listings of the finest and most popular communities in St. Augustine, Palm Coast and Orlando. Principals Paul Bobik and Bill Neil are both top producing realtors with decades of experience - their approach to the design of the website is indicative of their business philosophy of meeting the needs of their clients.
Straightforward, informative and effective, the website is an incredible resource. The homepage itself is a fantastic place to start a search for properties in Florida private clubs. What stands out is the interactive map, which allows the user to get a sense of the geography while choosing a particular resort to read about. Detailed descriptions and pictures give a vivid sense of what life in these resorts can be like - the Featured Properties tab showcases the finest homes represented by the company, and a complimentary MLS search is also provided.
Developers and landowners in need of the marketing expertise of Palladium Realty Group should pay particular attention to the 'Builders/Developers' tab that provides an overview of the services available to them.
With so many Florida resort real estate options, utilizing one resource that provides all the information you require can be beneficial. Visit http://www.palladiumrealtygroup.com today for more information.
About Palladium Realty Group: Palladium Realty Group was founded to provide buyers and sellers of residential and commercial real estate with an unmatched level of service and results. They are a full service real estate brokerage firm located in Coastal and Central Florida with a focus on luxury residential and commercial properties.
# # #