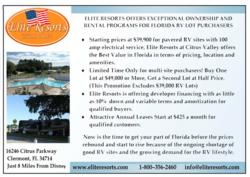 Now is The Time- Don't Wait.
Clermont, FL (PRWEB) November 28, 2012
Conveniently located in Clermont, just 8 miles west of Disney World in Orlando, Florida, Elite Resorts at Citrus Valley is the ideal Florida RV park vacation destination. Close to all the Orlando attractions, including world class shopping, restaurants and golf courses, the resort has something for every family member. Within the resort, enjoy numerous activities in the air conditioned 6,000 square ft. lodge, swim in the heated 3,000 square ft. swimming pool, or take advantage of the Resort wide Wi-Fi. In addition to the large, paved RV sites, there are 12 park model cottages available for rent by the day, week or month.
Elite Resorts Offers Exceptional Ownership and Rental Programs to those wishing to stay at a Florida RV park in the next 12 months.
1. With starting prices at $39,900 for pavered RV sites with 100 amp electrical service, Elite Resorts at Citrus Valley offers the Best Value in Florida in terms of pricing, location and amenities.
2. For multi-site interested purchasers, they offer the "Buy One Get Second at Half Price" program for a limited time only on lots priced above $49,000.
3. Elite Resorts at Citrus Valley is offering developer financing with as little as 10% down and variable terms and amortization for qualified buyers.
4. Attractive Annual Rental Leases start at $425 a month for qualified customers.
Jim Ross, Manager of Elite Resorts at Citrus Valley stated, "These offerings are a fabulous opportunity to become an owner or renter in the most beautiful Florida RV park within a short distance of all of the Orlando activities and amenities. They are not building any more new parks and the demand for lots continues to grow as the baby boomers seek out the affordable, hassle free way of staying in Florida. Why not come and stay with us a day, week or month and see how great Elite Resorts at Citrus Valley really is? You will not regret the chance to enjoy our brand new property."
For more information, or to book a rental stay, please call our friendly reservation staff daily 7.30 am to 5.30 pm at (800) 356 2460 or email info(at)eliteresorts(dot)com