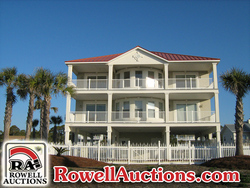 Moultrie, GA (PRWEB) March 17, 2009
Rowell Realty & Auction Co., Inc., a licensed real estate broker and real estate auction company, has been commissioned to sell at public online auction 48 homes, residential lots and commercial properties throughout Florida. The online-only auction event of these properties begins Tuesday, March 17 and ends on Tuesday, March 31.
From townhomes to single-family homes, from a residential lots to a 60-plus acre country estates, there is a diverse group of properties available to the public from Rowell Realty & Auction. The online auction event includes many bank foreclosures and many properties are selling absolute, regardless of pricing, providing many home buyers and other investors a unique and welcome investment opportunity in today's real estate market.
One property available in the online auction is a first-tier vacation home on St. George Island. With approximately 3,200-square-feet, the five-bedroom four-and-a-half-bath home features a swimming pool and a private beach boardwalk.
The online auction includes homes, lots and commercial properties in cities throughout Florida, including Daytona Beach, Palm Coast, Pensacola, Port St. Lucie and Tallahassee.
For more information about Rowell Realty & Auction, its upcoming auction of 48 Florida homes and properties, and online bidding instructions, visit http://www.RowellAuctions.com.
About Rowell Realty & Auction Co., Inc.
Established in 1936, Rowell Auctions, Inc. has provided clients with the most comprehensive marketing services for more than 71 years. The company's auction marketing professionals sell real estate and other substantial assets throughout the nation through online auctions and live auction events.
# # #