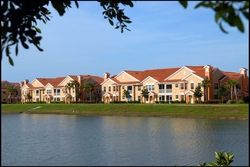 This is an incredible opportunity for first-time homebuyers, families, retirees and investors of all ages
Cape Coral, FL (Vocus) October 16, 2009
Concordia has just announced that it is lowering prices on brand-new condos to $69,900. This means the same condos that sold for hundreds of thousands just three years ago can now be snapped up for monthly payments under $300.
"This is an incredible opportunity for first-time homebuyers, families, retirees and investors of all ages," says Tom Clark, Executive Vice President of Sales. "There has never been a better time to buy, especially when your mortgage is less than a car payment," Clark added.
Concordia has taken the Southwest Florida real estate market by storm. While other communities struggle to sell, Concordia has been able to seel more than 100 units in just 90 days.
This success is due to the strategic vision of Concordia's sales and marketing partner,
Concord Communiqué Companies, LLC. Concord Communiqué is a new corporate entity made up of sales, marketing, and development professionals with decades of experience selling real estate all over the world.
Concord Communiqué's unique business model specializes in the sale of recently-built properties that have been taken over by banks. By focusing on large-scale distressed assets, they are able to market brand-new luxury products at prices that are comparable to short sales and foreclosures. It's a win-win solution for banks, and the savings can be passed on to both investors and consumers.
Concord Communiqué's success in this economy proves its ability to create green shoots in the real estate industry and adjust its strategic approach to maximize sales. Concord Communiqué has offices in Denver, Atlanta, Southwest Florida, Northwest Florida, and Los Angeles.
Concordia is located off of Kismet Parkway and Del Prado Boulevard in Cape Coral, Florida, just west of Fort Myers. The community will ultimately include 340 luxury condominiums with attached garages, surrounding a 5-acre lake, with a Mediterranean-style clubhouse that features a tropical clubroom furnished for group and individual gatherings, state-of-the-art fitness center, and a large swimming pool and Jacuzzi overlooking the lake. Furnished models are now open for touring.
###