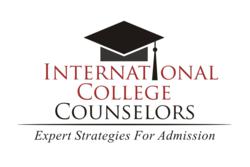 Every student has a gem of an essay within them. What they need to do is find that kernel of truth.
Miami, Florida (PRWEB) June 29, 2013
The Common Application will go live August 1 and many high school students across the country are spending their summer writing their essays and getting ahead on their college applications. A number of these students are getting professional help from companies like International College Counselors.
"The common belief is that help on college admissions essays is ethical as long as the editor is not writing a student's essay. At International College Counselors, we allow students to be themselves - a more interesting, more attractive, more eloquent version of themselves," said Mandee Heller Adler, president of International College Counselors.
It goes without saying that a student shouldn't have someone else write their entire essay for them.
Students should also refrain from lying on the college application or in the essay-- no matter how desperate they are to get into a school. If a university finds out a student has lied, rejection is almost guaranteed.
Colleges know if a student fibbed/fudged/lied because they are doing research of their own. College admissions officers often call up high schools to verify activities and awards. They have also called jobs, internship organizers, and places where students have performed public service. Thanks to the Internet, it's easy to see if a student really has received a major award or a significant ranking, whether it's in music or sports. Private investigators have even been hired by some universities, including MIT, to check up on student claims.
"Sure there is a chance a student won't be caught, but do you really want to risk it," said Adler.
Embellishing the truth is a grey area. If a student delivered meals to homebound senior citizens, this should not be written as "ended world hunger." Of course, there's nothing wrong with presenting yourself in a positive way. This is where ethics (and clever adjectives) need to kick in.
Plagiarism is always wrong and schools are getting better at detecting it. An ever growing number of colleges are using admissions essay services like Turnitin. College application essays are now being compared to a huge database of collected information and what's already on the web. Again, the risk is not recommended.
College essays are about the student. Who they are and not who they're not.
"At ICC, we believe that every student has a gem of an essay within them. What they need to do is find that kernel of truth – and remember to proofread," said Adler.
This year, college advisors at International College Counselors helped more than 200 students find, apply to and gain acceptance into the college of their dreams. The expert college counselors at International College Counselors are dedicated to helping students and their families successfully navigate the college application process.
Contact an expert college advisor at International College Counselors at 954-414-9986.
ABOUT INTERNATIONAL COLLEGE COUNSELORS:
International College Counselors provides expert college counseling on undergraduate and graduate college admissions, financial aid, tuition, essays, and college applications to domestic and international students.
The college counseling and college coaching services are tailored to address the goals, needs, and dreams of each student. Mandee Heller Adler, founder of International College Counselors, is a graduate of the Wharton School at the University of Pennsylvania and also received an MBA from Harvard Business School. International College Counselors' achievements include being recognized as one of South Florida's Top 100 Small Businesses in 2012.
International College Counselors has offices in New York, New York; White Plains, New York; Miami Beach, Florida; Miami, Florida; Coral Gables, Florida; Palm Beach, Florida; Boca Raton, Florida; Medellin, Colombia and Caracas, Venezuela.