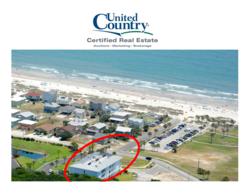 These Florida condos for sale are located within 500 feet of Amelia Island's Main Street Beach.
Fernandina Beach, FL (PRWEB) June 01, 2011
A Florida coastal condo auction will be held onsite at 2705 Dolphin Avenue on Amelia Island's Fernandina Beach for three units located in Ocean View Villas. On, Saturday, June 25 at 10 a.m., United Country Certified Real Estate's auction production team will offer these Atlantic Ocean vacation homes to the highest and best bidder. Through an aggressive real estate marketing campaign, auction producer, auctioneer and broker Myers Jackson, CAI plans to continue the positive trend in existing Florida condo sales, up 29% from the first quarter of 2010 according to Florida Realtors.
These Florida condos for sale are located within 500 feet of Amelia Island's Main Street Beach and across the street from Wolf Park, which guarantees perpetual unobstructed views of the Atlantic Ocean from each unit's private balcony. The action condo units each have 3 bedrooms and 3 and a half baths with spacious, open floor plans and offer luxurious Florida vacation living. Amenities include granite counter tops, stainless appliances, underground parking and concrete construction.
"Lifestyle properties such as these are a specialty of United Country Real Estate," commented Myers Jackson, CAI. "This Nassau County, Florida auction will offer condos that provide privacy and accessibility, as they are excellently situated at the intersection of Dolphin Avenue and Tarpon Avenue. This location on Amelia Island has easy access to a variety of ocean front activities, coastal recreation and State Highway A1A."
Location maps, virtual tours and details for this Florida condo auction are available online at CertifiedCondoAuction.com. The real estate auctioneers may be contacted at 800-711-9175 to answer inquiries and explain terms and conditions for Amelia Island, Fernandina Beach, Atlantic Ocean auction event. Interested parties may also bid to buy Florida coastal homes for sale over the internet at OnlineOnlyAuctions.com.
United Country Real Estate is the largest fully integrated network of conventional and auction real estate professionals in the United States. Based in Kansas City, Mo., the company has been an innovator in real estate marketing since 1925. United Country supports nearly 600 offices across the U.S., Costa Rica, Panama and the resort areas of Mexico, with a unique, comprehensive marketing program that includes one of the largest portfolios of property marketing web sites (more than 1,400 separate sites), seven proprietary real estate catalogs with a cumulative distribution of 1.5 million readers, an extensive, current buyer database and national advertising of properties that reaches more than 90 million homes per week. United Country has recently been recognized by AllBusiness.com, The Land Report, Entrepreneur and The Wall Street Journal as one of the top U.S. real estate companies. United Country Certified Real Estate: Auctions, Marketing and Brokerage Firm, conducts Georgia land auctions and Florida real estate auctions for waterfront & coastal property, plantations, farms & acreage, recreational land, timberland, hunting land, luxury homes, commercial, industrial & development land and lots.
###