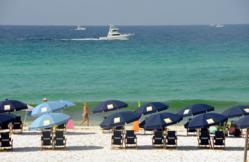 Visitors are returning to Sandestin, in not just pre-oil spill, but pre-recession numbers.
Destin, FL (PRWEB) June 07, 2011
Sandestin Florida Family Resort reports more families finding fun on Florida's Emerald Coast beaches as they gradually find more money in their travel budgets. "Visitors are returning to Sandestin, in not just pre-oil spill, but pre-recession numbers," said John Russell, President of Sandestin Golf and Beach Resort. "The beach is back."
Travel industry predictions would indicate Sandestin's improving numbers are a trend, not a blip. In American Express's annual spending survey, 59 percent of respondents said they planned to take a summer vacation, listing Florida as their top destination, with "diversity of activities" and "accessibility to a beach" among their top priorities.
"We're pacing well ahead of last year," said Russell. "We had a very popular year thus far. When you look at our occupancy numbers, the resort had a very good February, March and April, and summer bookings are off to a great start."
Prospective travelers to Florida emphasized that deals remain important to them. In fact, many local travelers are already saving money by driving to Sandestin on one tank of gas, or enjoying discount airfares like those offered by Vision Airlines, which services the nearby Destin/Ft. Walton Northwest Florida Regional Airport (VPS).
At Sandestin Golf and Beach Resort, there are more Florida vacation specials and deals to be had, particularly if guests can travel around the peak times favored by groups. The resort also offers a free night promotion, based on availability. If families have some degree of flexibility, there may even be a better choice of getting a great unit Sunday through Thursday.
Activities Galore
Nestled in Florida's drive-friendly panhandle and stunning Emerald Coast, Sandestin offers a rich array of diversions for the whole family, from the high-thrill adventure of its new 40-foot climbing wall, expanded ropes course, and zip line to the old-fashioned leisure of a bike ride down shaded sidewalks. Parents can escape to the golf course or day spa as the kids enjoy a new adventure at Club KZ; then the whole family may come together in the evening for an outdoor movie night or magic show at The Village of Baytowne Wharf.
"Once you check in, you really never have to leave this resort. We can cater to any need," says Jason Draughn, Director of Activities at Sandestin. "Shopping, dining, activities — you never have to leave."
Many favorite activities like bike rentals and tennis court time are complimentary for a limited time each day, under the amenity card given to guests. Such inclusive conveniences help explain why 2011 vacationers are visiting Sandestin in numbers not seen since before the economic recession hit.
Just Add Water
In an area hailed by Frommer's for its sugar-fine, white sand, the 2,400-acre resort is unique in that it offers access to both the blue-green frolic of the Gulf of Mexico and the calm of nearby Choctawhatchee Bay.
Relax in one of Sandestin's beach chairs while the kids explore the surf on one of the resort's many boogie boards. Then, when it's time to take the adventure to a higher plane, try parasailing with Sky Pirates on beach service.
On the other side of the Florida vacation resort in the calm bay, guests can rent jet skis, a pontoon boat, or even a sailboat, with lessons available for the inexperienced. And in either the bay or the gulf, guests can fish, kayak or try out the new rage: YOLO boarding. Two adults and a child can stand on the board, a 12-foot-long hybrid of a surfboard and a kayak, and paddle to the eye's delight.
A Village like No Other
Shopping, dining, entertainment and adventure are all easy finds at The Village of Baytowne Wharf, a 28-acre pedestrian village with a family-friendly New Orleans feel.
From Candymaker's toffee to the kids' clothing at Barefoot Princess, there are plenty of sweet treats for the children. But if guests really want to see their kids cheer, send them on the Village's three-story ropes course, zip line and rock climbing wall.
Never short on fun, the Village hosts its popular themed nights in season, including concerts on Wednesdays and outdoor movies on Thursdays. Other nights offer parades, magic shows and even fireworks each Tuesday during the popular summer season. And the expansive playground and carousel are always big draws.
Old-Fashioned Adventure
One of the best ways to explore Sandestin is on bicycle, but there's no need for guests to bring one. Sandestin has a wide array of bikes to choose from, from bikes with training wheels to tandem bicycles.
Jolee Island Nature Park – a 5-acre preserve of Florida scrub, pine, magnolias and scenic salt marsh – is open only to foot traffic, with a boardwalk, picnic tables, nature trail that goes around the island, and playground equipped with a treehouse and wooden pirate ship.
No Parents Allowed
Children ages 3 to 12 get the chance to get away from mom and dad for a while — or vice versa — with a trip to the new Club KZ. This popular program, expanded for 2011, now offers a wider range of themed activities spread across the resort.
"We know parents can't really enjoy their time away unless they feel assured the kids are not only fully supervised, they're also having a great time. Club KZ satisfies on both accounts," said Draughn.
Each day offers a new opportunity for age-appropriate adventure and exploration. Pirate lovers will relish using their treasure map to root out a reward at Jolee Island. Another day, hunt for shells and build sand castles on the beach, or play aqua golf and have noodle races at the pool. And a Club KZ visit to The Village of Baytowne Wharf, with its carousel, EuroBungy and Ropes Course, rivals a trip to the amusement park. Yummy, nutritious lunches will recharge young explorers for more activity.
Even the club room offers a journey for the imagination, featuring a 12-foot-high sand sculpture, a 55-gallon salt water aquarium and a fully outfitted entertainment area – with flat screens, surround sound, computers, Wii and Xbox Kinect and all the latest games.
Kids can take in all the fun from 9 a.m. to 2 p.m. Monday through Friday for $55 per child; then come back for "Children's Evening Out" from 6 to 10 p.m., based on availability.
Summer Events
Events during summer include the nationally acclaimed Emerald Coast Blue Marlin Classic in June; the Red, White & Baytowne Fourth of July celebration; plus the Sandestin Music Festival and the Sandestin Triathlon in August.
"It's all about giving them that world-class experience," Gipson said. "It's all about creating memories that they're going to have forever. That's what we're in the business of doing — creating memories, not just for mom and dad but for the kids, too."
For information about Sandestin, its great deals and all the resort has to offer, visit http://www.sandestin.com or call 1-866-91-BEACH.
About Sandestin Golf and Beach Resort
Sandestin Golf and Beach Resort was named the #1 resort on Florida's Emerald Coast. The resort invites guests to a world of 2,400 acres and 30 charming neighborhoods featuring 1,400 Destin vacation rentals, condominiums, villas, town homes and the best in Destin hotel accommodations. A member of Beaches of South Walton, the resort features more than seven miles of beaches and pristine bayfront, four championship golf courses, 15 world-class tennis courts, 19 swimming pools, a 98-slip marina, a fitness center and spa, meeting space and The Village of Baytowne Wharf, a pedestrian village with shopping, dining and nightlife.
###