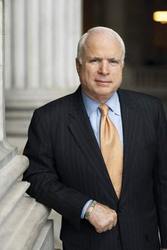 the McCain proposal, would replace an income tax break for employees who currently receive health insurance from employers with a new refundable tax credit.
Florida (PRWEB) June 30, 2008
Florida health insurance web, a free health insurance consulting service reports that "Republican candidate John McCain plans to make buying health insurance similar to buying a computers or cars," saying competition will lower prices of health care. "The health care proposal of the presumptive Republican presidential nominee would not lead to significant changes in the employer-sponsored system; it will make things worse," said Morgan Moran, a Florida health insurance analyst.
According to the latest health insurance report on John McCain, "the McCain proposal, would replace an income tax break for employees who currently receive health insurance from employers with a new refundable tax credit."
That could be as much as $2,500 for individuals and $5,000 for families for the purchase of private coverage, but Moran said, "McCain's plan will not change incentives for employers at all, the end result - more people without insurance coverage. McCain's plan will encourage a significant number of employers to drop health insurance coverage all together because this would no longer be such a big benefit for their employees."
Democratic presidential nominee Sen. Barack Obama agrees with that position. While on the campaign trail last week in Albuquerque, N.M. said that "Employers might begin to drop health insurance for employees "when a $2,500 tax credit is not enough" to cover the cost of premiums."
Senator Obama discussed health care and other issues saying, "Health care puts such a burden on families," adding, "even if you've got health insurance, you've seen your copays and deductibles and premiums up. If you don't have health care, you feel like you are always one illness or one accident away from bankruptcy." Obama added, "We've got to reverse that."
According to Moran, under the Obama health care proposal, "There will not be a single person in America that wants health insurance that will not be able to get it." He writes, "Obama offers a mix of changes, many, but not all involving government money, and saying the best solution will emerge from the experimentation."
Moran said, "I think health insurance will stay on the table after the election pointing to the addition of Elizabeth Edwards, who has joined Obama's health care committee." Adding, "Elizabeth Edwards will continue to promote an expansion of health insurance to all U.S. residents, it's a good sign that Obama is still thinking health care after the primary season, and after the change in the economic situation of America."
The health insurance analyst argued, "that huge economic issues face the next president; including health care, the federal budget deficit, oil prices etc." Moran said, "Recently the financial situation of the nation has changed. We have just gone through a housing bust and credit crunch, and a huge increase in fuel cost, so the whether or not health insurance will get lost in the shuffle remains to be seen." The political system was inching toward tackling health care after the election, but that "seems less likely now, despite the consensus that the U.S. doesn't get its money's worth from its health care spending as it is."
To find out more about the McCain health insurance plan. Please visit http://www.JohnMcCain.com. To find out about how the McCain health insurance plan will affect your Florida health insurance policy, visit http://www.FloridaHealthInsuranceWeb.com, a free health insurance service.
###