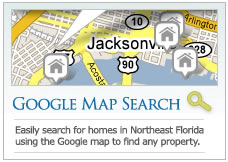 (PRWEB) December 21, 2007
Ponte Vedra Beach, FL The Phyllis Frankel Realty Group has implemented one of the most sophisticated and easiest ways for buyers to search for their next home or real estate investment property in all of the Northeast Florida area.
Buyers can now search for their next home or property without giving their personal information. The real estate buyer can now search in peace with no harassment by Realtors trying to gain their business. They will actually be able to see the home and its picture on a map before they look at the details.
It is known that internet users love the fact that searching for homes or other types of property on the web is all about pictures and other visual aids. The Phyllis Frankel Realty Group also knows that Google has one of the most innovating ways of mapping. Combining the latest mapping technology from Google and the Phyllis Frankel Realty Group expertise, they have developed something extraordinary in store for today's home buyers.
The suspense is building, isn't it?
Take a look at their newly developed Northeast Florida real estate search.. It's so easy... a cave man could do it.
Most real estate property search sites are limited to the amount of ways home or property buyers can narrow their search. The Phyllis Frankel Realty Group has provided a number of ways of serching for their next home or real estate investment property.
To make it simple, the Frankel Realty Group has provided some unique ways to search for a home, condo or other types of property. Buyers can search by school, a particular neighborhood, or by a Northeast Florida County, to name a few. The counties that are included in this Florida real estate area are Baker County, Clay County, Duval County (otherwise known as Jacksonville Florida), Nassau County, Putnam County and St. John's County.
Buyers will find that out of these counties in the Jacksonville area, St. Johns County is among one of the most popular areas. Some of the additional popular areas also include Ponte Vedra and Ponte Vedra Beach and all the Northeast Florida Beaches.
Buyers can also narrow their search by city, zip code, specific address, or a specific MLS number.
What is really fascinating is that as they narrow their search by additional criteria such as property type, price range, beds, baths, square feet and other distinguishing features, the amount of homes will decrease on the map leaving them with only the ones that meet all their criteria.
The Phyllis Frankel Realty Group suggests that home and property buyers do not hesitate in trying out this innovative way to find their next home, condo, or other type of real estate property.
###