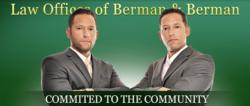 Contact the Best Florida Injury Lawyers Today 1-877-529-8995 The Berman Law Group
West Palm Beach, Florida (PRWEB) April 17, 2013
The Berman Law Firm is proud to announce that they are now serving the entire state of Florida with legal representation. They are able to fight and win cases throughout the state of Florida, including the major metropolitan areas of: Miami, Boca Raton, Jacksonville, Tampa, Sarasota, Orlando, Hialeah, Tallahassee, Cape Coral, Gainesville, West Palm Beach, Pensacola, Saint Petersburg, Ocala, and every location in between.
The Berman Law Group are committed to the community and will fight for their clients' rights. They are passionate about client rights and are focused on delivering the results and justice to those who have been wrongfully injured or harmed. They focus on compassionate legal counsel for their clients. They are aggressive Florida personal injury attorneys who will not rest until they have done all they can for their clients.
As Florida personal injury lawyers, the Berman Law Group are able to assist clients with the following types of cases: Personal Injury, Wrongful Death, Product Liability, Workers Compensation, Auto Accidents, Motorcycle Accidents, Defective Drugs, Faulty Medical Equipment and Devices, Environmental Hazards, Workplace Accidents, Nursing Home Negligence, Slip & Fall/Premises Liability, Family Law, Criminal Law, Toxic Torts, Spinal Cord Injuries, Traumatic Brain Injuries, Burns, Amputations, and more. They can be contacted at 1 (877) 529-8995.
As Florida personal injury attorneys with offices in Boca Raton and Stuart, the lawyers at Berman & Berman strive to be the one of the very best law firms in all of Florida, and to accomplish this goal, they treat their clients with the full respect, care and courtesy they deserve. Each client is a new relationship with the Berman Law Group and not a number like other firms. They will work diligently to develop a relationship with their clients in order to identify and understand their wants and needs, since every client has different objectives. They believe that establishing this bond with each client will enable them to maximize recovery and bring Florida personal injury cases to a satisfactory close in the shortest amount of time.
To get in contact with the Law Offices of Berman and Berman you can contact them at 1-(877) 529-8995 or visit their website found at http://lawyerinjuryaccident.com/. They are available 24 hours a day via email, phone, or live chat on their website. For help any type of injury lawsuit in Florida, contact the Berman Law Group today, experienced Florida accident and injury attorneys who are committed to justice.