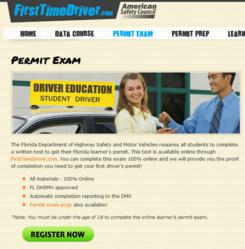 Everything you need to get your Florida learner's permit!
Orlando, FL (PRWEB) July 05, 2011
The American Safety Council (ASC) is now authorized by the Florida Department of Highway Safety and Motor Vehicles (DHSMV) to be the first provider offering online driver license tests to Floridians under 18 years of age.
ASC's application was approved on July 5th, 2011 by the DHSMV, allowing students looking to meet their learner's permit test requirement to do so at http://www.FirstTimeDriver.com.
"We are now offering the online learner's permit test for the first time since December 2010." announced Jeff Pairan, Executive Vice President of the American Safety Council. "Any Florida teen under the age of 18 can meet their permit requirements online with FirstTimeDriver.com."
With the busy summer months ahead, this announcement is a breath of fresh air for parents and Florida's youth. In addition, the news relieves local driver license and Tax Collector offices where traffic will be reduced with online permit exams recommencing.
"American Safety Council is currently the only provider approved for offering online learner's permit exams." stated Bob Proechel, President of the American Safety Council. "Our examination process meets the state of Florida's requirements and effectively tests the student's driving knowledge to prepare for their first restricted driver's permit."
To help prepare for the exam, ASC also offers a 100% online test prep service on FirstTimeDriver.com. This learner's permit prep aims to assist Florida teens in preparation for the online license exam entirely online. Prepared by a former DHSMV driver license supervisor, the permit prep provides access to DMV practice tests, video tips, 30-hour online driver education course, DMV document requirements and appointment scheduling.
FirstTimeDriver.com, provided by the American Safety Council, offers the Drug Alcohol and Traffic Awareness (DATA or TLSAE) course, the learner's permit test, and the learner's permit test prep online for students to prepare and pass their exams on the first attempt. Teens and parents can now visit the redesigned FirstTimeDriver.com to purchase any of these online services. For the first time this year, not only can students meet the DATA/TLSAE requirement online, but also fulfill their driving permit exam requirements before going to the DMV!
For more information about American Safety Council First Time Driver programs or online learner's license exams, visit FirstTimeDriver.com. ASC and its affiliated organizations offer online driver education, workplace safety training, governmental services and professional continuing education programs, in association with state and federal regulatory agencies, state universities and court systems. For additional information, please contact the American Safety Council at 1-800-732-4135 or visit http://www.americansafetycouncil.com.
###