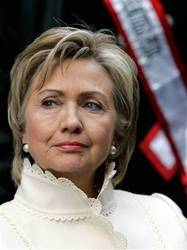 everybody can buy what is best for them and their family.
Hialeah, FL (PRWEB) January 25, 2008
"The way that you vote on Tuesday will have a major effect on health insurance rates and benefits in the years to come", that according to Florida's Health Insurance Web, a consulting service. The Democrats are offering the best plans for Florida residents, while the Republicans offer tax breaks.
Hillary Clinton, a Democrat, leading the polls in Florida, is in favor of some sort of universal health insurance plan -- which is good for Florida. Her chief Democratic rival of course, is Barrack Obama. Despite the fact that they have similar views on health insurance, and are from the same political party, Obama feels that Clinton's health insurance plan is far from the answer.
"Obama would much rather pass laws that help to reduce the cost of health insurance," said insurance specialist Morgan Moran. As you can see, "Clinton and Obama may be fighting it out on the campaign trail, but actually they share similar views on healthcare, and what direction should be taken."
In contrast. The Republicans have nothing to offer Florida in the health care debate. Last night in Florida's Republican debate, GOP candidates talked money; deeper tax cuts to stimulate the economy, and not a mention of healthcare. Candidates Mitt Romney and rival John McCain squabbled over the U.S. economy while pounding Democrat Hillary Clinton as they jockeyed for votes in Florida's presidential primary race.
"The next president," said Moran, "no matter of party affiliation, will have to make changes to the way that Americans are obtaining health insurance." At this time, more than 46 million Americans are living without any sort of health insurance coverage. If the new president does not address this issue, many experts feel that by 2009 this number will push past 50 million and further disrupt the economy.
"The candidate currently leading in the polls has the best plan for health insurance. For many, Hillary Clinton wins hands down in this department." She is a big believer in universal health insurance, and feels that this is the only way to ensure that everybody gets coverage.
Clinton and Obama have similar plans, said Moran. Like Clinton, "Obama wants to do whatever he can to make health insurance more affordable for individuals and businesses." This way, Obama said, "everybody can buy what is best for them and their family."
Clinton, Obama and even Edwards feel that millions of Americans do not have health insurance because it is too costly; not because they would rather save a few dollars. "I recommend you check out all three top Democratic candidates to see what each has to offer ... all three offer wonderful plans." On the other hand -- the Republicans offer tax cuts to allow for health care premiums, while not repairing the health care system, Moran said.
About Morgan Moran and FHI-Web.
Florida Health Insurance Web is a health insurance consulting service. Find out about health insurance from the experts in a free online or phone consultation. Florida health insurance web is a source of health insurance news, agents, and insurance carriers covering individuals in the state of Florida. Individuals can get insurance quotes, search rates online by city, read current insurance news and events. Please visit http://www.FloridaHealthInsuranceWeb.com
# # #