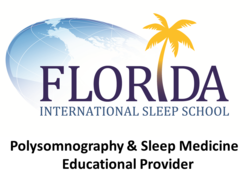 I am excited to be appointed the Director of Education from a school that has a clear mission to adapt their curriculum to the changing needs of the sleep industry.
Fort Myers, FL (PRWEB) January 31, 2013
The Florida International Sleep School is proud to promote faculty member Robyn Woidtke, MSN, RN, RPSGT to the position of Director of Education. Although Robyn has been with the school for only a short time her extensive background in sleep medicine and her recent graduation with a master's degree in nursing made this promotion an easy decision for the school. In this new position she will oversee the development of a number of new educational courses aimed at health care professionals both within and outside of the field of sleep medicine.
The appointment of Robyn as Director of Education is a further commitment of the school to develop new education courses that will train health care providers to deal with the growing need of diagnosing and treating patients with sleep disorders. The school was opened in 2007 and has been active in educating sleep technologists and physicians including newcomers into the field of polysomnography and sleep medicine. It specializes in distance learning opportunities with on line courses and blended classroom sessions.
The first "Sleep For Nurses" courses will be targeted specifically at the nursing profession since they are often exposed to patients with undiagnosed sleep disorders and tend to overlook how the lack of quality sleep affects overall health and wellness. The course will consist of a series of on-line modules covering a variety of sleep related topics aimed at providing the nurse a better understanding of the fundamentals of sleep and how to spot sleep related problems on the hospital floor or in a clinic environment. This can be an especially important risk mitigation opportunity for hospitals for patients in the perioperative environment as recently detailed by a case where a patient died after knee surgery attributed to complications from sleep apnea.
The changing landscape of the sleep medicine field has also opened up new opportunities for nurses interested in entering this expanding segment of the market. The recent adoption of home sleep testing as a reliable method for diagnosing obstruction sleep apnea has increased the number of patient's prescribed CPAP therapy. This in turn has increased the demand for health care providers including nurses as part of the interdisciplinary team to support patients who are attempting to adapt to this treatment and remain compliant over the long term. There are numerous published clinical studies indicating these patients have a much better chance of success with their therapy if they received the proper education from the beginning.
"We are delighted to have Robyn as our new Director of Education," said Andrea Clark, MSW, RPSGT, President and Administrative Director at the school. "She brings the talent and experience to the school that will allow us to expand our curriculum to address the demands of the evolving sleep medicine field."
"I am excited to be appointed the Director of Education from a school that has a clear mission to adapt their curriculum to the changing needs of the sleep industry," stated Robyn, "I am particularly happy regarding the supportive environment provided by the school to teach nurses about sleep and associated disorders. Nurses, as the largest group of healthcare professionals have many and varied opportunities to improve individual and public health by promoting sleep and recognition of sleep related issues. However, largely education about sleep in nursing school curriculum is lacking. Programs such as these can fill a necessary educational gap."
Each module will be an hour in length. Provider approved by the California Board of Registered Nursing, Provider Number 14150, Sleep For Nurses, for 1 contact hour per module. The first modules are scheduled to be offered on-line in April, 2013.
About the Florida International Sleep School
The Florida International Sleep School (sister company to Sleep960) is a distance learning polysomnography and sleep medicine provider offering courses for entry level students, sleep technologists and medical professionals. It boasts one of the most experienced faculties in the country complimented with guest and virtual sleep experts from around the world. The curriculum allows students to select courses both on-line or blended with traditional classroom sessions held in Orlando, Florida.