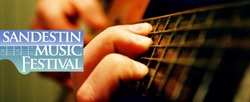 When the Lights Go Down
Destin, FL (Vocus) July 23, 2010
The inaugural Sandestin Music Festival scheduled for August 13-14, will support the National Audubon Society and its efforts to help birds and other wildlife affected by the BP oil spill in the Gulf of Mexico. The music festival at Sandestin Golf and Beach Resort will be fueled by a cross-section of country and rock's most acclaimed songwriters and performers. Donations online and via text from the festival will support this great cause.
Legendary musician and songwriter Steve Cropper, contemporary country trendsetters Jeffrey Steele, Danny Myrick, Marty Dodson and James Slater, ace guitarist and acclaimed singer/songwriter Lee Roy Parnell, Grammy-winning blues icon Delbert McClinton, powerhouse country vocalist and Broadway star Lari White, and promising up-and-comer Kree Harrison will deliver show-stopping performances as the amenities of the 2,400-acre Sandestin Florida Vacation Resort serve as the idyllic backdrop.
Entry to the Sandestin Music Festival is FREE for the public with a printed ticket via the Sandestin Music Festival website, http://www.sandestinmusicfestival.com. While there is no charge for admittance, festival organizers are asking for donations to benefit the National Audubon Society's Gulf Coast efforts. Donations may be made online at the Sandestin Music Festival website or through $10 text donations during the event.
VIP Packages are available to the first 150 overnight guests to book Destin lodging accommodations at Sandestin via http://www.sandestinmusicfestival.com. VIP Package includes priority seating and a meet-and-greet with all the performers on Sunquest Cruise's yacht, the Solaris, after the show on Saturday. For information, call 1-888-717-5540 or visit http://www.sandestinmusicfestival.com.
The Sandestin Music Festival kicks off Friday, August 13 at 6 p.m. in The Village of Baytowne Wharf. The schedule includes:
-- 6 p.m. at Hammerhead's Bar and Grille: Marty Dodson, a songwriter for country stars Rascal Flatts, Kenny Chesney, Billy Currington and more, performs with rising country star Kree Harrison.
-- 8 p.m. at Rum Runners: James Slater, the Grammy-nominated, bilingual singer/songwriter and pianist, takes the stage with Grammy winner and Broadway performer Lari White.
-- 10 p.m. to midnight at Graffiti & The Funky Blues Shack: the party really heats up as two of Nashville's top country songwriters Danny Myrick and Jeffrey Steele join blues icon Delbert McClinton. Myrick penned hit singles "International Harvester" by Craig Morgan, "Loud" by Big and Rich (the theme song for CMT's "Gone Country" show), and recent multi-week chart-topper, "She's Country" by Jason Aldean. McClinton has been writing hits since his career took off in the 60s. Three-time BMI Songwriter of the Year Jeffrey Steele's mega-hits include a string of chart-toppers for Rascal Flatts, including "Every Day," "My Wish," "Me and My Gang," and the groundbreaking "What Hurts The Most," as well as Tim McGraw's "The Cowboy in Me," Faith Hill's "When the Lights Go Down," Trace Adkins' "Chrome," LeAnn Rimes' "Big Deal," and Montgomery Gentry's "Speed," "Hell Yeah" and "My Town."
Saturday, from 7-10 p.m. the Village Events Plaza in The Village of Baytowne Wharf will showcase the weekend's main headline acts:
Steve Cropper: A guitarist, A&R man, engineer, producer, songwriting partner of Otis Redding, Eddie Floyd and a dozen others, and founding member of both Booker T. and the MG's and The Mar-Keys, Cropper was literally involved in every record issued by Stax Records from the fall of 1961 through year end 1970. His is the co-writer of "(Sittin' On) The Dock of the Bay," "Knock on Wood" and "In the Midnight Hour."
Delbert McClinton: A blues icon and legendary songwriter, his Grammy-winning duet with Bonnie Raitt, "Good Man, Good Woman," and #1 composition "Two More Bottles of Wine," recorded by Emmylou Harris, merely skim the surface his deep catalogue, while as a performer, he has only improved since first turning heads in the 60s.
Lee Roy Parnell: An ace guitarist as well as a distinctive singer and hit songwriter, Lee Roy Parnell offers music that runs a diverse gamut: blue-eyed soul, Delta blues, roadhouse rock, Southern boogie, Texas swing, and gospel come together in his songs to defy conventional classification. In addition to being a music publisher, Parnell is currently producing and writing with influential songwriters and recording artists nationwide.
"We invite everyone to gather their families and join us for a wonderful weekend of top-shelf entertainment," says John Russell, Sandestin resort chief. "These talented artists represent the best in the industry and we are fortunate to have such an incredible line up of award-winning performers. This is the perfect way for us to cap the summer season."
"BMI constantly seeks out new ways for our songwriters to connect with new audiences, and the first annual Sandestin Music Festival is an ideal opportunity," says Jody Williams, BMI Vice President, Writer/Publisher Relations. "Live music ensconced in the Sandestin's paradisiacal setting is a perfect way for fans to really get to know the masters behind the hits and to support worthwhile efforts on the Gulf Coast."
The Sandestin Music Festival is sponsored by BMI, TrustCore, Sandestin Golf and Beach Resort, The Village of Baytowne Wharf, Sunquest Cruises and Southwest Airlines.
About Sandestin Golf and Beach Resort
Sandestin Golf and Beach Resort offers one of the most complete resort experiences in North America. Sandestin is a 2,400-acre destination for all seasons and for all ages, located on Northwest Florida's Emerald Coast, an area recognized as one of the top 2010 destinations in the world by Frommer's. The resort invites guests to enter a world with a 98-slip Marina plus 30 charming neighborhoods, 1,400 condominiums, villas, town homes and a wide variety of hotel accommodations. A member of Beaches of South Walton, this Sandestin Florida Vacation Resort features more than seven miles of sugar-white sand beaches and pristine bay front, four championship golf courses, 15 world-class tennis courts, 19 swimming pools, a fitness center and spa, and The Village of Baytowne Wharf, a pedestrian village featuring boutique shops, casual and fine dining restaurants and nightlife. For complete information visit http://www.sandestin.com.
About the National Audubon Society
The National Audubon Society's mission is to conserve and restore natural ecosystems, focusing on birds, other wildlife, and their habitats for the benefit of humanity and the earth's biological diversity. The national network of community-based nature centers and chapters, scientific and educational programs, and advocacy on behalf of areas sustaining important bird populations, engage people of all ages and backgrounds in positive conservation experiences. Visit http://www.audubon.org for more information.
# # #