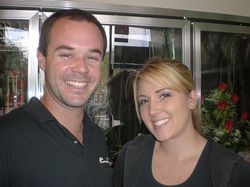 The formation of these two account manager positions will further enhance our commitment to outstanding customer services
Sunrise, FL (PRWEB) March 4, 2009
Flowers From The RainFlorist, an award winning florist located at 3810 N University Dr in Sunrise, Florida, has announced the promotion of Shannon Renna and Jeff Barrett to the positions of Account Manager. These account managers will expand the flower shops ability to provide a wider range of customer service to their growing client list of non-profit organizations, schools, funeral homes and business clients throughout Dade and Broward County.
Ms. Renna and Mr Barrett both held the position of sales representatives at Flowers From The RainFlorist and specialized in sales and customer service for existing clients. Ms. Renna is also a professional coach, and will also be act as the team leader for all Account Managers. Mr. Barrett has 9 years experience in sales and promotions.
Founded in 1992, Flowers from The RainFlorist has earned a reputation locally and in the Floral Industry of being a real flower shop with cutting edge designs and unique programs like their Concierge Service, Reuse/Recycle program and their Community Give Back Program. "The formation of these two account manager positions will further enhance our commitment to outstanding customer services," says CEO Sher Tannnozzini, "as each Account Manager will be a "go to" person for their client."
Flowers From The RainFlorist has taken the concept of a traditional flower shop and developed it into a unique business for gift giving, special events and weddings. "We continue to bridge the miles and make deliveries happen that otherwise would not be possible," says Sher Tannozzini, "it's all about being there for your clients and making it happen".
Flowers From The RainFlorist is conveniently located in the heart of Ft. Lauderdale at 3801 N. University Dr. Sunrise Fl 33351 Call 954-741-8900 or visit us online at flowersfromtherainflorist.com.
###