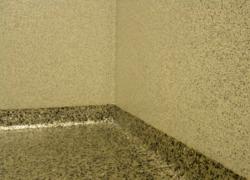 Chicago, Ill (PRWEB) May 23, 2012
The largest ever Florock FloroChip Mica Blend floor, manufactured by Crawford Laboratories, Inc., Chicago, Ill., was recently installed in the new two-story, 21,000 sq. ft. Nashville, Tenn., location of a privately-owned bookstore known for its green business practices. The decorative, durable and eco-friendly FloroChip "Mica" System provides the look of expensive terrazzo for a mere fraction of the cost. Opened to the public in mid-March, the new store – and floor – is receiving rave reviews.
The environmentally-friendlyFloroChip Mica Blend flooring consists of solvent-free, 100% solids Floropoxy base and grout coats layered with decorative ¼" vinyl chips in a blend of designer colors that include the elegant new light-reflective mica elements. Two finish coats of low V.O.C., low-emissions Florothane CR 250 provide the additional chemical and abrasion resistance needed for heavy retail store traffic. The incorporation of white aluminum oxide grit in the topcoats offers extra skid-resistance and safety while still allowing for easy maintenance.
Special attention was paid to providing the family bookstore with hygienic surfaces – especially in public restrooms. Lavatory walls were treated with a similar chemical resistant FloroChip System, using a finer 1/8" grade of decorative chip blend. An integral four-inch floor-to-wall cove base takes away corners and gaps where germs and dirt can hide. The seamless system looks neat and clean, and makes clean-ups a breeze.
The stunning FloroChip Mica Blend floors and walls in this large retail space were expertly installed by an approved Florock contractor. Local Florock representatives are available nationwide to assist design professionals in selecting the best commercial, industrial and institutional flooring for their unique applications. Call 1-800-FLOROCK (1-800-356-7625) to find a representative near you.
ABOUT FLOROCK®, MANUFACTURED IN THE U.S.A. BY CRAWFORD LABORATORIES, INC. -- Serving facilities nationwide, Crawford Laboratories, Inc., is a respected leader in the manufacture, research and development, and installation of solutions-oriented concrete floor coatings and toppings. Independently owned for 60 years and located in Chicago, Illinois, Crawford Laboratories was founded on the principles of cutting-edge technology, innovation and impeccable integrity.