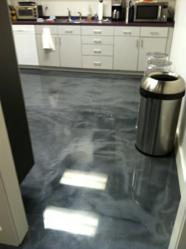 Chicago, IL (PRWEB) April 03, 2013
Florotallic, the newest decorative system in the expanding Florock® Polymer Flooring line manufactured by Crawford Laboratories, Inc., Chicago, fills a pressing need for high performance, design-forward concrete floors for commercial, institutional and industrial applications. Favored for having both casual and upscale appeal, acid stained concrete finishes can exhibit major drawbacks, causing designers to look elsewhere. Florock's Florotallic system offers the organically elegant aesthetics of acid stained concrete, while providing significantly better performance at a comparable or lower cost.
Acid stained, as well as burnished and polished, concrete floors have unpredictable installation results. Slab imperfections, repair patches and porous areas of the slab can become even more conspicuous; available methods offer little ability to repair flaws. In contrast, the Florotallic system hides most slab defects and offers approved installers post-application repair options, if needed.
Stained and polished concrete requires regular treatment by a professional, adding to upkeep expenses over time. Florotallic requires no waxing or polishing – regular cleaning with broom, mop and bucket is all that is required.
Stained and polished floors have a tendency to get very slippery. Attempts to address the issue with special waxes fall short; compromised user safety is the result. In contrast, the Florotallic system offers a full range of skid-resistant finishes that get permanently incorporated into the finish coat.
Best of all, the cutting-edge style of the Florotallic system gets installed at a comparable or better price than its lesser performing look-alikes. With a predictable end result, lower overall cost and considerably better performance, it's no wonder Florotallic's popularity is exploding!
The Florotallic system is currently offered in eight standard colors, with a variety of slip-resistant finishes. Local Florock representatives are available nationwide, call 1-800-FLOROCK (1-800-356-7625) to find one near you.
____________________________________________________________________________
ABOUT FLOROCK®, MANUFACTURED IN THE U.S.A. BY CRAWFORD LABORATORIES, INC. -- Serving facilities nationwide, Crawford Laboratories, Inc., is a respected leader in the manufacture, research and development, and installation of solutions-oriented concrete floor coatings and toppings. Independently owned for 60 years and located in Chicago, Illinois, Crawford Laboratories was founded on the principles of cutting-edge technology, innovation and impeccable integrity.