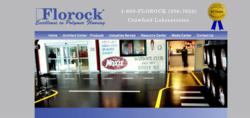 Chicago, IL (PRWEB) September 19, 2012
The ever-evolving Florock® concrete floor coatings product family, manufactured by Crawford Laboratories, Inc., Chicago, IL, has a fresh online presence with its new, updated website, http://www.florock.net. The innovative site features sleek, high tech graphics and a new "Architect Center", emphasizing the company's ongoing commitment to the design professions. At the same time, Florock approved installers, as well as commercial, industrial and institutional facility owners, will find the site inviting and intuitively organized, allowing them even faster access to the information they need.
The website "Resource Center" handily gathers together some of the most sought-after information in one location, including product technical data and color brochures. A unique feature here is the cross-indexing of Florock material safety data sheets (MSDS) by both product number and system, enabling quick retrieval of these important documents.
In the "Architect Center", visitors can register for a free online American Institute of Architects (AIA) Continuing Education Course or learn how Florock polymer flooring can contribute to their project's LEED certification. Three-part architectural specifications in .pdf and .doc formats, detail drawings and Florock technical data sheets are conveniently downloadable.
Other website features include the means to search for Florock products by floor type in the "Products" menu, or by application in the "Industries Served" drop-down. An extensive gallery of flooring photos can be found in the "Media Center", along with informational videos, and company news. Spanish readers are accommodated via a link within the "Home" menu, where a lighthearted topical cartoon "en espanol" awaits.
ABOUT FLOROCK®, MANUFACTURED IN THE U.S.A. BY CRAWFORD LABORATORIES, INC. -- Serving facilities nationwide, Crawford Laboratories, Inc. is a respected leader in the manufacture, research and development, and installation of solutions-oriented concrete floor coatings and toppings. Independently owned for 60 years and located in Chicago, Illinois, Crawford Laboratories was founded on the principles of cutting-edge technology, innovation and impeccable integrity.