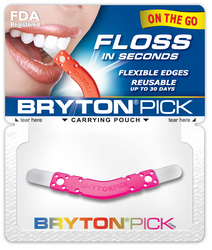 quick, discreet and hygienic opportunity to clean interdental spaces after every single meal, no matter where -- in a theater, in a restaurant, in a car, at the office, school, theater or at home
Palm Beach Gardens, FL (PRWEB) July 17, 2008
The endless excuses for not flossing are banished with the release of the BrytonPick, a stringless, reusable and on-the-go interdental space cleaner.
The BrytonPick - FLOSS in Seconds is a revolution in oral hygiene for one simple reason: it presents a "quick, discreet and hygienic opportunity to clean interdental spaces after every single meal, no matter where -- in a theater, in a restaurant, in a car, at the office, school, theater or at home," says Tom Logar, President of Toothguard Dental Instruments.
Research by the American Dental Association finds that only about 12 percent of Americans floss regularly and properly. The primary excuses for not flossing include not having the time, place or skills and patience to do so.
The string-free BrytonPick's round cleaning edges are designed to simply slide between teeth with a circular in or out motion to dislodge food and plaque. Though effortless to use, the soft and flexible edges are as thin as standard dental floss.
In addition to its ease-of-use and convenience, the BrytonPick is a fashionable alternative to the numerous objects that people use to clean between their teeth in a pinch, such as pen caps, paper clips, the edges of business cards, fingernails or worse. Using such unhygienic products as a dental floss alternative not only brings unwanted negative glances to the user, but can inflict harm on the teeth and gums, as well, introducing an array of germs and bacteria.
Developed and tested by oral health professionals, BrytonPick's one-handed use, design and portable carrying case make it a revolutionary substitute for on-the-go hygiene in any situation. Everyone from teens with braces to senior citizens with limited mobility will find the BrytonPick a convenient tool for use after every meal, anywhere and anytime.
BrytonPick's germ-resistant stainless steel edges make the pick reusable for up to 30 days. After use, the BrytonPick can be tucked into its carrying case, which, at the thickness and size of a credit card, is convenient enough for any excursion outside or inside the home.
To raise oral care awareness, Toothguard Dental Instruments is implementing trend, style and fashion in oral hygiene, which is a stark departure from standard dental encouragement.
The BrytonPick dental space cleaner is now available for purchase at Meijer, Drugstore.com, Amazon.com, BrytonPick.com, Dentist.net, Pearson dental supplies, and other retailers, and will soon be available nationwide trough all major retail and convenient stores. For more information on the BrytonPick, visit http://www.BrytonPick.com .
###