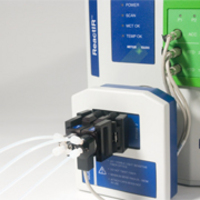 Columbia, MD (PRWEB) November 4, 2009
Professor Steven Ley of the University of Cambridge will present a free webinar The Application of the ReactIR Flow Cell to Continuous Processing Technology on November 19, 2009. The ReactIR flow cell is presented as a convenient inline analytical tool for continuous flow chemistry processing. The flow cell, operated with ATR technology, is attached inline using standard Omnifit connections. With the established iC IR 4.0 software, the consumption of reagents and formation of products can be monitored in real-time, allowing for rapid optimization. Unstable reaction intermediates can also be observed in situ, giving mechanistic insight to complex transformations.
This webinar, which will be of interest to anyone working in continuous flow chemistry processing, will deal with the application of the ReactIR flow cell inline using various meso and micro scale flow chemistry equipment. The utility of the cell for a range of different reaction types will be presented:

Curtius rearrangement using the Vapourtec R2+/R4
Butane-2,3-diacetal protection using the Uniqsis FlowSyn
Hydrogenation using the H-Cube Midi
Marshall reaction using Future Chemistry microfluidic devices
Steven V. Ley is the BP (1702) Professor of Chemistry at the University of Cambridge. He received his Ph.D. degree from Loughborough University in 1972, after which he carried postdoctoral research with Leo Paquette and Derek H.R. Barton. He was appointed to the staff at Imperial College in 1975 and became head of department in 1989. He was elected to the Royal Society (London) in 1990 and moved to Cambridge in 1992. He was President at the Royal Society of Chemistry (2000-2002) and was made CBE in January 2002. His work of over 670 publications has been recognized with several prestigious prizes and awards, including most recently the 2009 Tetrahedron Prize.
Heiko Lange, born in Lüdenscheid (Germany), studied Chemistry at the University of Münster in Germany and completed his undergraduate studies in 2004 with a diploma in chemistry under the supervision of Professor Dieter Hoppe. Having finished his Ph.D. in the same group, he started his postdoctoral research in 2008 in the group of Professor Steven V. Ley. His current research interests are complex natural product synthesis using modern techniques and the development of new polymer-supported reagents in order to further simplify synthetic procedures.
Catherine F. Carter received an MSci in Chemistry from the University of Nottingham (2004-2008). She completed her final year project with Professor Chris Hayes and is currently a Ph.D. student in Professor Ley's research group working towards the application of new technologies to organic synthesis.
# # #