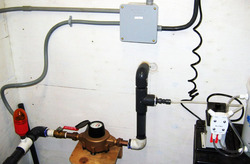 SwitchGuard Plus has been working great
Cleveland, OH (PRWEB) September 1, 2009
Flow Line Options Corp. (Flo-Corp), a leading manufacturer and national distributor of flow and level instrumentation, today announced that Point Reyes National Seashore has selected SwitchGuard™ Plus for its potable water treatment system. Featuring high accuracy and no moving parts, SwitchGuard Plus provides a complete solution for low flow pump or process protection with a 16A compact relay controller.
SwitchGuard Plus is well-suited for a diverse range of liquid applications. Specifically designed to monitor flow and temperature, this device protects equipment and process from high temperature and low or no-flow conditions. SwitchGuard Plus will monitor flow rates up to 20 fps in any size pipe diameter. In addition, this device is offered in two different sensor lengths making it compatible with pipes ranging from ½" to 1½" or 2" pipe diameters and above.
This new device is being used at Point Reyes National Seashore to monitor and control a potable water treatment system. The flow is generated from a natural spring with moderate to low flow rates. The system is designed to pull water from the natural spring through primary and secondary filters before it is chemically treated with chlorine. Since the flow of the natural spring is often times very low it was important to select a flow switch that can detect flow rates that are under 1 gallon per minute. If the flow of the natural spring stops, the SwitchGuard Plus protects the process by switching off the system and alerting personnel of the low or non-existent flow.
"SwitchGuard Plus has been working great," said Karen McKey, utility system operator at Point Reyes National Seashore. She further explained that SwitchGuard Plus was selected based on its unique ability to detect low or non-existent flow rates and came as a "complete package" that included a flow switch, AC Controller, and strobe light. McKey also pointed out that the device features no moving parts, which eliminates regular maintenance and costly repairs in the future.
"SwitchGuard Plus is a great alternative to traditional flow switches and has been specifically designed for those dealing with low or no flow applications," said Dave Grumney, president of Flow Line Options Corp. "It has been our goal to provide our customers a solution for any flow or level application they face, and the new CalFlo product line has brought us even closer to our goal."
About Flow Line Options
Incorporated by the State of Ohio in 1988, Flow Line Options began as a small distribution company and has evolved into a leading manufacturer and national distributor of flow and level instrumentation. In 1999, Flow Line Options expanded to the Web to provide their services globally. Even with the company's rapid growth, Flow Line Options continues to maintain a small business attitude and commitment to its customers. For more information, visit flowlineoptions.com
Media Contact:
Jen Millar
Flow Line Options Corp.
1-877-356-5463
###