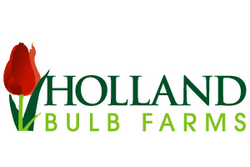 Milwaukee, WI (Vocus) November 17, 2010
Holland Bulb Farms, a leading online flower bulb retailer, recently released their Flower Finder application on Facebook, making it the first of its kind on the social network. This application allows fans of the Holland Bulb Farms page to easily search for flower bulbs that will grow perfectly in their specific area in only a matter of minutes. Unlike most Facebook applications, the Flower Finder only requires the visitor to "Like" the page prior to entering his or her zip code and does not invade the visitor's privacy by requiring access to his or her profile.
When a visitor to the Holland Bulb Farms Facebook page clicks on the Flower Finder tab on the top of the screen, a dialog box opens which will ask him or her to enter the zip code where he or she intends to garden. Once a zip code is entered, the hardiness zone which this zip code is located in is revealed. Below this information then appears an extensive list of flower bulbs which are guaranteed to grow in that particular area. From this point in the process, the application then allows the visitor to easily search by other factors as well. These factors include, but are not limited to the following: bloomtime, light requirements, and color.
Through this application, Holland Bulb Farms has developed an extremely useful tool and has made it available for millions of Facebook users to implement. This application makes garden design and flower selection extremely simple, almost like having a personal, experienced gardener alongside you while planning and shopping for your garden.
About Holland Bulb Farms:
Holland Bulb Farms is an online retailer offering a large variety of flower bulbs, perennials, seeds, fruits, and vegetables. The idea to sell top-quality flower bulbs and plants online was born from a 35+ year parent flower bulb distributor corporation, backed by 4 generations of bulb growers. Located near Milwaukee, Wisconsin, Holland Bulb Farms supplies both fall and spring planted bulbs and plants to all of the 48 mainland United States. With an excellent staff of expert horticulturalists and dedicated customer service representatives, this company prides itself on its strong commitment to exceeding the customers' expectations while providing premium products for the garden. Visit them at http://www.hollandbulbfarms.com/.
###