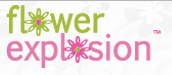 Cut-to-order exclusive blooms
Wilmington, DE (PRWEB) June 28, 2013
Flower Explosion has released news about a special that they will offer for the month of June and July. Flower Explosion will be offering premium wedding bouquets online starting at just $99 with free shipping. LAD Solutions has been selected to handle the promotion in order to increase customer awareness about the promotion and to increase the order volume.
For customers looking for wedding flowers online, Flowerexplosion.com is there to meet the challenge and they have customized their services in order to make ordering wedding bouquets online more affordable. Flower Explosion handles every aspect of the job from collecting the flowers from their farms to the arrangements and shipping. The company also allows customers to call in and customize a wedding kit.
In addition if a customer's wedding will be in a specific remote location, the company has announced that it will arrange for the flowers to be shipped to resorts, holiday destinations and more in order to make ordering flowers more convenient for their customers. The company has not specified which locations will be eligible for the free shipping under the current promotion however by calling the company, customers can find out if their purchases will indeed include complimentary shipping.
Flowerexplosion.com offers a wide variety of flower arrangements since their bouquets are made at flower farms. They have arranged flower orders with more than 100 different varieties of flowers to ensure customer satisfaction with the variety of options that they are able to offer. Bouquets can even include premium roses and can will be arranged by professional flower designers directly at the farm before the orders are shipped.
Flower Explosion maintains that their company can handle wedding flower orders with ease because to date the company has serviced more than 2,000 weddings successfully. The company also has announced that they continue to work with dozens of customers each week to service their weddings.
For customers that are looking to take advantage of the promotion, Flower Explosion has requested that customers give them a call to place a customized flower order. Then the company can provide more information as to the delivery options and whether the complementary shipping will apply to the destination of the customer's preference. In addition, this promotion will only be available until the end of June so customers are encouraged to get in contact with the company right away to ensure that they receive the special pricing before this offer ends.
About Flower Explosion LLC: Flower Explosion LLC is a main supplier of fresh flower arrangements and has serviced customers with farm fresh flowers all over the world. The company maintains 25 farms in many locations including Colombia, Ecuador, Holland, and Costa Rica. The company itself is based in Delaware, United States. For more information on the company and to place an order, visit Flowerexplosion.com.