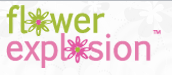 Cut-to-order exclusive blooms!
Wilmington, DE (PRWEB) May 21, 2013
Flowerexplosion.com has announced that it will now offer a variety of shipping options for flower delivery in order to meet its customers' needs. Shipping options have been updated for their customers in the United States, Canada, and in international locations. LAD Solutions has been contracted to do the promotion in order to raise customers' awareness about the additional options available to them.
In the United States, Flower Explosion will offer flat rate delivery via UPS and FedEx to any mainland or island location including Hawaii and Alaska. In addition, they have updated their services to allow for floral pickups directly from the airport in order to allow customers to save on freight costs. However, this option will only be available to customers that are located near or in major metropolitan areas. They will also be requesting a minimum order of 3 boxes of flowers.
For customers that are located in the Miami or Los Angeles areas, Flower Explosion will take things a step further and offer drop off services at no additional charge. Although there is a restriction that the customer must be one of the their large repeat customers and have their own trucking companies.
United States based customers can also save even more if they option to arrange they own freight deliveries from picking up the flowers at the company's cargo agencies located in Ecuador and Colombia. The pricing for this service according to the company is the best option if customers want to save on freight costs.
For Canadian customers, Flower Explosion has added the options of delivery via FedEx as well as airport pick up. For international customers, Flower Explosion offers the option to retrieve the flowers from their cargo agencies in Ecuador and Colombia as well as the option to arrange pickup from the airport. However for airport pickup for international customers, customers will be required to undergo processing with customs in order to complete the pickups of their orders.
Flower Explosion has added these additional options in an effort to make using their services more flexible, faster and easier for their customers. The company has updated their website with the new options. Customers are encouraged to call the company and speak with them directly if they would like to adjust their current delivery options. The company has also requested this option so that if any customers have any special concerns these issues can be addressed and appropriate pricing can be given for their services.
About Flower Explosion LLC: Flower Explosion supplies farm fresh flowers and specializes in over 100 varieties of flowers. The flowers come from 25 farms located in Colombia, Holland, Ecuador, and Costa Rica. The company's headquarters is centered in Delaware. More information about the products that they sell can be found at Flowerexplosion.com.