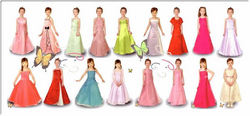 San Jose, CA (Vocus) February 27, 2010
The Online Flower Girl Dress provides their customers with one of the largest selections of flower girl dresses and a large in stock inventory and catalog database. Ranging from weddings to communions, these dresses are available and can be searched easily. Heavily trafficked and with great prices and sales option, this is customer's one stop shop for all of their bridal needs.
Catalog Database for Flower Girl Dresses
At Online Flower Girl Dress, customers can select from several of different flower girl dress categories, such as, tea length, full length, infants, toddlers, so many more. It could be dresses unrelated to flower girl dresses and can be a communion or a baptism dresses. However, if they wanted to see an extensive catalog, all they would have to do is to scroll down the main page and click on the catalog link. There is would take them to what Online Flower Girl Dress has to offer. It is as simple as that and none all to complicate. The flower girl dresses on their catalog can be search by using the search engine on top, convenient for the customers to select a flower girl dress that they've seen by using the item number, or for those who are budget conscious, by price. For efficient use, it could be search by size and color as well as a designer that a customer is fascinated.
In Stock Inventory for Flower Girl Dresses
Provided by Online Flower Girl Dress, is there in stock inventory of all the flower girl dresses they have available for immediate delivery. This database is the same system as the catalog database has. It enables customer to view flower girl dresses available by size, color, price, and by designer. Having over 1,300 flower girl dresses, the search engine is a valiant tool that enables the Online Flower Girl Dress to perform adequately and maintain a successful relationship with their customers. This is a very useful tool for customers that are in a tight squeeze and must get a flower girl dress last minute. Also within the inventory database they allow their customers to search for flower girl dresses that are on sale.
Sales and Discounts for Flower Girl Dresses
The Online Flower Girl Dress has established an exciting, new way to meet the demands of today's economy. To lessen the load of a large wedding bill, the Online Flower Girl Dress has prepared a valuable deal for their customers. They have offered a database that consists of their in stock flower girl dresses and accessories at discounted prices. This newly created database is subject to the same manner of performance as with the other sites. Customer can chose their price point, as well as size, color, and which designer they would like to have their flower girl dresses from. Also they can find a flower girl dress that they would like to have through the item number that is listed on the dress. Another added bonus to this great deal is that if a customer buys a flower girl dress and/or accessories for over fifty dollars, they are presented with free shipping (available only for UPS ground shipping). The customer doesn't only need to buy one flower girl dress and/or accessories; they can purchase several flower girl dresses and/or accessories as long as the combine total is more then fifty dollars. To further enhance this proposal, the Online Flower Girl Dress has also added another offer for their customer: if the total of everything they purchased (flower girl dresses and/or accessories) subtotaled to one hundred and twenty dollars or more they also receive a ten percent discount as well as free ground shipping.
Accessories for Flower Girl Dresses
On the bottom of the front page of the Online Flower Girl Dress, there are several links to help customer shop at this one stop place. There are categories for flower girl shoes, flower girl accessories, flower girl veils, and even flower girl tiaras for the flower girls. These items are to compliment the flower girl dresses available on the website. All the customer would need to do is to check on the category what they would like and look through the pages of that category. This is to make the customer find an efficient to find all of their pieces and well as help get the free shipping, the ten percent, or both!
Best Selling Flower Girl Dresses for 2010
To lessen the confusion of which dress to purchase, on the main page the Online Flower Girl Dresses have listed the top selling five flower girl dresses that is most popular among the customers. Tip Top fashions has provided a wonderful service to the Online Flower Girl Dress that their dresses TT 5319 flower girl dress, TT 5374 flower girl dress, TT 5324 flower girl dress, TT 5338 flower girl dress, and finally TT 5378 flower girl dress have been a must have for the Online Flower Girl Dress customers. The TT 5324 and the TT 5338 flower girl dresses comes in a variety of colors and have sizes and the rest of the flower girl dresses comes with several of different sash colors and but still maintain the dress color white. These little perfections have been seen in many wedding and have been loved by the brides and the little flower girls.
Online Flower Girl Dresses Sister Sites (Rose Bridesmaid Dresses and Rose Mother of the Bride/Groom Dresses)
The Online Flower Girl Dress has enlisted the help of their sister sites to make sure brides are getting as much attention as they need for their perfect day. Scrolling down the bottom of the main pages are two of their best sister sites- RoseBridesmaidDresses.com and The Rose Dress' Mother of the Bride/Groom section. These sites are attached to the Online Flower Girl Dress for the purpose of making sure that the bridal's party has everything they need, whether it's finding a bridesmaid dress or a dress for their mothers. If need be, everything can be shipped together, making it more convenient for the bridal party. These two sites, along as the Online Flower Girl Dress, are willing to help the bridal party along their way to a successful wedding!
###