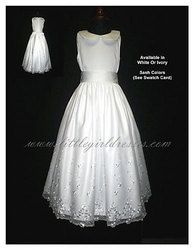 Little Girl Dresses has always offered our brides budget-conscious dress options. For instance, our Classic line of affordable flower girl dresses has prices starting at just $50 for some designs. But these new additions offer customization at no extra cost and that's the extra touch that we like to give our customers
Willingboro, NJ (PRWEB) January 8, 2009
Little Girl Dresses.com, a leading online retailer of flower girl dresses, Communion dresses and Christening gowns, today announced a new line of customizable and affordable flower girl dresses well-suited to the budget-conscious 2009 bride.
"Everyone's wedding budget faces a challenge in 2009." said Gary Catrambone, President of Little Girl Dresses.com. "Brides will still want their flower girls to wear dresses that match the bridesmaids without costing a fortune. That's why we added these gorgeous white and ivory flower girl dresses with buyer-selected sash colors, ribbon colors or flower accents colors."
Buyers of this new line of flower girl dresses from LittleGirlDresses.com get to pick their sash color, ribbon color or flower accent color at no extra cost. Plus, if their total dress order exceeds $150, free ground shipping is included.
"We've adapted our product lines to continue to offer our valuable customers beautiful dress choices that fit within their budget," said Doug Bowker, Vice-President of Sales. "These new flower girl dresses give them flexibility, no compromise in quality and unbeatable prices."
"Little Girl Dresses has always offered our brides budget-conscious dress options. For instance, our Classic line of affordable flower girl dresses has prices starting at just $50 for some designs. But these new additions offer customization at no extra cost and that's the extra touch that we like to give our customers," Catrambone added.
For additional information, contact Gary Catrambone or visit http://www.littlegirldresses.com.
About LittleGirlDresses.com:
LittleGirlDresses.com is a leading online retailer of flower girl dresses, First Communion dresses and First Communion suits, Christening gowns, ring bearer tuxedos, holiday dresses and accessories for Flower Girls and Christening. Little Girl Dresses.com is located in New Jersey and serves customers across the United States and around the world. Find our flower girl dresses at: http://www.littlegirldresses.com/flower-girl-dresses-5.html, view our new customizable additions at: http://www.littlegirldresses.com/premier-flower-girl-dresses-87.html, and Classic discount flower girl dresses at: http://www.littlegirldresses.com/classic-flower-girl-dresses-86.html.
###