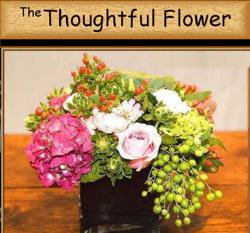 This facility is centrally located in an iconic building in the Modesto Area
Modesto, CA (PRWEB) January 14, 2012
Central Valley's flower shop, The Thoughtful Flower recently relocated to a bigger and better space at 500 Scenic Drive in Modesto, allowing it to better serve its customers.
"This facility is centrally located in an iconic building in the Modesto Area. The spacious store with its vast window displays catches the eye of the passersby," Alicia Largent of The Thoughtful Flower said. "Our new location helps us better serve our communities floral needs."
Conveniently located near the picturesque St. John's Chapel of the Valley, The Thoughtful Flower is now closer to Salas Brother's Funeral Home, and downtown, the hub of activity in the Modesto area.
The space also features a separate garden area with plants, garden decor and art, baskets, yard stakes, gazing balls, bird feeders, and other goodies to adorn the garden, as well as practical items like gardener's gloves and bird seed.
Creating floral arrangements since 1974, The Thoughtful Flower has dazzled local residents and beyond with its spectacular custom floral creations, wonderful plants, balloon arrangements, gifts for any occasions and distinctive designs, particularly with wedding flowers and centerpieces.
Weddings are a strong part of The Thoughtful Flower's business, and its unique rental program allows brides to choose from a huge selection of glass, containers, pillars, arches, screens and other goodies. The program is designed to help a couple receive all the pizazz they want, while staying within budget. The Thoughtful Flower recently expanded this area with the relocation, and more than ever, the flower shop can help a bride make all her "floral dreams come true."
Over the years, The Thoughtful Flower has made large and small weddings tremendous successes. It prides itself on creating appealing, one-of-a-kind pieces of floral art for every event. Enjoy wedding flower arrangements with bridal bouquets and boutonnieres and a full range of wedding flowers, including wedding centerpieces and ceremony flowers.
The Thoughtful Flower also teaches design classes through the Community Education Program at Modesto Junior College. The new facility allows the shop to accommodate a larger class size in a more spacious, user-friendly area.
The florist is a sponsor and exclusive florist for The Gallo Center for the Arts and The Modesto Symphony Orchestra, as well as a sponsor of the Stanislaus Arts Council and the Center for Human Services.
For more information about any of The Thoughtful Flower's products or services, call 209-214-7668, view the florist on the web at http://www.thoughtfulflower.com or visit 500 Scenic Drive in Modesto.
About The Thoughtful Flower
As one of the established flower shops in the Central Valley, The Thoughtful Flower offers distinct and unique floral arrangements and gifts to ensure that every memorable occasion is unforgettable.
The florist shop specializes in creating unique floral arrangements, wedding flowers, centerpieces and custom floral art. Recently relocated in Modesto, The Thoughtful Flower also carries plants, gifts, balloon arrangements, garden art and more.
###