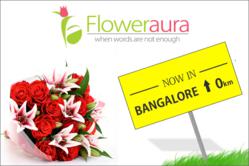 Now that we have synced the logistics, raw material procuring and floral design expertise, we are all set. This is an immense opportunity for us
(PRWEB) April 23, 2013
FlowerAura,a leading e-floral gifting solution based in India, has now launched a delivery service in a destination which its 20,000+ consumers in India and across the world were waiting for; Bangalore. Flower Aura, which kicked off operations in the latter half of 2011, has now expanded their service delivery footprints in the Silicon Valley of India, a city which sees an influx of skilled workers, leaving behind a drove of loved ones which are left with their thoughts on birthdays, anniversaries and weddings. Not anymore, for Flower Aura lets visitors send flowers, cakes, chocolates and soft toys to friends and family in Bangalore, and that too with a free shipping component.
Shrey Sehgal, founder at Flower Aura, pointed out at an "immense opportunity" which lies ahead of them.
"Bangalore has always been a key destination for us. In fact we were looking at Bangalore as a key delivery city last year but we wanted to be operationally ready for meeting the demand numbers. Now that we have synced the logistics, raw material procuring and floral design expertise, we are all set. This is an immense opportunity for us"
Service extensions make this proposition an even more salivating one. Midnight deliveries have also been introduced so that the birthday cake reaches loved one's doorsteps at the precise second the clock signals their birthday. No more would the visitor's birthday cake be the 7th cake to land at her workstation the next day. This service is available in all postal codes of Bangalore.
Another interesting service Flower Aura has introduced is that of a guitarist on click which sees a guitarist accompanying the flowers and cakes and singing their preferred tunes to the recipient as they looks on in awe and wonder. Online flowers delivery to Bangalore just got better!
Exciting times ahead for Flower Aura as they delve into mesmerizing their audience in Bangalore, for it has always been pro-flora in gifting. The next time we need to send flowers to Bangalore, we know where to head to!