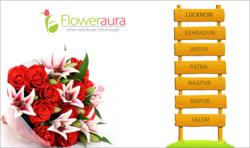 We have chosen 7 cities to begin with and have deployed our in-house floral designers there. An in-house delivery fleet will cater to home deliveries which makes it a controlled operational exercise for us
(PRWEB) April 26, 2013
FlowerAura, India's premier e-florist, is now looking beyond the metro rush and looking to push aggressively for a greater pie in tier 2 cities. Labeling internet as the "great leveler", Himanshu Chawla, founder at FlowerAura looked visibly excited at the prospects."The growth story is now inclusive. The past decade has seen a migration from tier 2 cities in metros for pursuit of studies, employment and personal growth. Obviously, there is major population of friends and family which decides to stay in their native place. They are missed on birthdays, anniversaries and festivals. With internet penetration being at an all time highest, we have to be relevant for this consumer base," says Chawla.
This service extension was a huge challenge to begin with. Courier companies in India are reluctant to serve distant postal codes as the network has not yet expanded. Add to that, infrastructural constraints and lack of floral design expertise in smaller towns made consistency in deliveries a critical problem. FlowerAura addressed this by not getting into a drop shipping model. "We did not want a drop shipping model because courier companies in India are not reliable yet in terms of timely and safe delivery. In an industry like ours where a delivery makes or breaks a recipient's day, we could not afford relying on a third party. We have chosen 7 cities to begin with and have deployed our in-house floral designers there. An in-house delivery fleet will cater to home deliveries which makes it a controlled operational exercise for us," says Chawla.
These 7 cities are Lucknow, Dehradun, Jaipur, Patna, Nagpur, Raipur and Salem. Consistency in product delivery is the biggest challenge the Indian E-Commerce fraternity is facing and FlowerAura wants to excel operationally by removing this constraint in every day processes. The next time we intend to send flowers to Lucknow or get flowers delivery in Patna done, we know where to get clicking at!