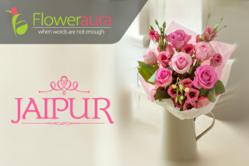 FlowerAura recently sent a team of their in-house designers to learn styling techniques from expert floral designers in Arizona
Jaipur, India (PRWEB) June 04, 2013
FlowerAura, a premier e-florist based in India, has announced a line of floral décor which mirrors western trends for their prized recipients in Jaipur – a metropolis fondly referred to as "Pink City". Jaipur marks an important addition to many recent delivery expansions, helping the 2-year-old company to continue building its brand across India. Until now, consumers looking to send flowers to Jaipur were faced with limited options in the area of floral expertise. FlowerAura strives to greatly improve customer experience by making its top-notch products and industry-leading services available to residents of Jaipur.
Clearly excited by the latest expansion, Shrey Sehgal, founder of FlowerAura, points out the "mediocrity detesting" mindset of the current floral shopper. "The floral gifting segment is seeing a lot of evolution in both supply and demand. Sadly, the supply end has not been able to keep up with the pace of the ever-changing floral landscape in Jaipur. The trends which were in vogue in 2005 are still being used at scale. On the other hand, the demand side – the consumer – is becoming increasingly abhorrent of mediocrity in floral arrangements and gifts. They want fresh ideas and first-rate service, which we aim to deliver through sustained efforts to achieve excellence."
To accomplish this goal, FlowerAura recently sent a team of their in-house designers to learn styling techniques from expert floral designers in Arizona. They spent a couple of months learning new styles, décor modes, and floral variations to stay on top of the industry trends that consumers are looking for. The "growth curve", according to Neha Khurana, was exponential. "Jaipur sees a lot of demand for exotic flora, owing to the historic legacy of kingdoms and an erstwhile royal lineage residing here. Our growth curve as in-house florists has risen exponentially after our stint in Arizona with local florists there. Their expertise and effective coaching has helped us to understand the evolving desires of today's consumer. I'm confident our designers will skillfully replicate the new techniques they learned, and help us translate it to the Indian market."
The Indian e-floral segment has seen considerable maturity in the past decade or so. Substantial investment has gone into proper training of designers and impetus is placed on keeping them abreast of current trends and consumer insights. These key takeaways then reflect into bouquet arrangements and floral décor settings for gift recipients. From convenience shopping, where quality was not paramount, the industry has now taken a turn for quality-conscious consumers willing to pay an extra buck for streamlined delivery. Jaipur is emerging as one of the key delivery centers in India, as it continually sees many natives flocking in for further studies and employment.
One of the key trends, for example, has been an increased usage of purple hues in floral arrangements and bouquets. Other examples include usage of exotic flora like orchids and bamboo shoots as centerpieces, which signal a shift from the traditional red-rose-and-baby's-breath approach the consumer had until about five years ago.
The next a customer is looking for a high quality for a florist in Jaipur, FlowerAura will be there with its beautiful designs, affordable prices, and unbeatable service.