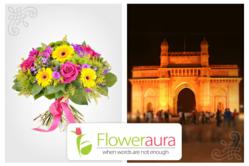 The time is ripe to think beyond the conventional delivery modes. We were getting a lot of calls from visitors who wanted special deliveries like midnight to surprise their loved ones
(PRWEB) June 11, 2013
FlowerAura, India's premier e-gifting retailer, announces another service expansion to accommodate midnight flower deliveries for customers in Mumbai. This follows a recent addition of live music as an option for birthday deliveries, allowing customers to send a guitarist to serenade a loved one on his or her special day. As a quick response to a sharp rise in demand for midnight deliveries on special occasions, FlowerAura is now making its recently diversified products and services available to residents of Mumbai, beginning in June 2013.
Terming the recent developments as a regular "consumer delight" extension, Shrey Sehgal, founder at FlowerAura looked visibly upbeat. "The time is ripe to think beyond the conventional delivery modes. We were getting a lot of calls from visitors who wanted special services like midnight deliveries to surprise their loved ones. This got us thinking about adding the mode to our bouquet of services on offer. Nothing aids consumer delight more than getting their gifts delivered at the precise hour."
Mumbai has always been a crucial delivery node for FlowerAura. With the cosmopolitan outlook of the "financial capital of India", floral gifting has always been a sought-after solution for all occasions. As this industry evolved, floral gifting saw a lot of flux in all business verticals and deliveries were a key part of this value-chain. By looking beyond the conventional afternoon and evening delivery options and treading into midnight deliveries, FlowerAura is creating a greater mindshare for itself in the highly unorganized floral industry in India.
This delivery option was integrated seamlessly into the portal for the consumers so that the user interface which they were used to, was not compromised. A section termed "Midnight Delivery" was added in the tab structure of the landing page of FlowerAura so that visitors have a simple, intuitive understanding of how to place these orders. Once they click on Midnight Delivery, the rest of the process is an easy 2 click order placement which replicates the flow from the rest of the portal.
It has been an eventful journey for FlowerAura which started operations in 2009. From a startup which catered to deliveries in New Delhi and satellite towns of the National Capital Region (NCR), it now facilitates deliveries in over 150 cities of the country with a seamless delivery network which ensures constancy in product quality and customer satisfaction. Add to that, rapid strides in product line extension and delivery modes like midnight deliveries are making sure that FlowerAura is creating a dent in an industry otherwise plagued with infrastructural problems. Having executed 10,000+ deliveries in the last 4 years, FlowerAura is now looking at being the one stop destination for floral deliveries in India. The next time we intend to send flowers to Mumbai, we know where to head to.