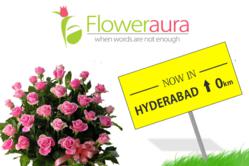 When there is a community to target, chances of getting a higher loyalty base becomes easier, provided we deliver on our best-in-class quality parameters, we have always strived for. It was a need gap and we are glad to bridge it
(PRWEB) May 07, 2013
FlowerAura, the biggest channel for e-floral gifting in India, has announced a service vertical for a city which ostensibly is home to one of the biggest skilled workforce zones in the country – Hyderabad. A bevy of multinational companies and their headquarters see an exponential migration of white collar workers coming in the city leaving behind a sea of friends and family who miss their presence on important occasions like birthdays and festive occasions like Holi and Diwali. Taking note of this "need gap", FlowerAura has now announced floral delivery services for Hyderabad.
Shrey Sehgal, founder of FlowerAura, had an interesting point to state when asked about this foray. "Hyderabad is unique in a sense. Unlike cities like Bangalore and Mumbai which see a uniform migration from all parts of the country, Hyderabad has a dense concentration of people from Uttar Pradesh and Bihar who migrate here. When there is a community to target, chances of getting a higher loyalty base becomes easier, provided we deliver on our best-in-class quality parameters we have always strived for. It was a need gap and we are glad to bridge it."
The icing on the cake here is not just flowers delivery to Hyderabad. FlowerAura has extended the flagship floral delivery services to include cakes (both egg as well as egg-less), chocolates and soft toys. These deliveries are for all postal codes of Hyderabad and are shipping-free, if ordered before 5 PM Indian Standard Time (I.S.T). To make sure that product quality is consistent across the board, FlowerAura has deployed a team of floral décor experts in Hyderabad.
FlowerAura started out as a startup in 2011 and has seen tremendous growth in the past year, to the effect of shipping 20,000+ arrangements for their early adopters. In a constantly evolving market for floral gifting in India, FlowerAura is aiming to have leadership position in the next 5 years, and a service extension to Hyderabad is a step in the direction. Jump in right away and send flowers to Hyderabad availing FlowerAura's expertise.