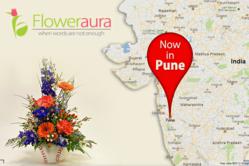 It is a simple and quality focused brand, whose main aim is to become an integral part of its customers' lives.
(PRWEB) May 16, 2013
As a part of its ongoing expansion plan, Floweraura announces the launch of its online flower delivery in Pune, India. The new launch further strengthens the brand's commitment to serve its customers from all major locations by the end of this year. "It is a step forward as a company," said Shrey Sehgal, co-founder of Floweraura. "It is a simple and quality-focused brand. Our main aim is to become an essential part of our customers' lives." This service expansion is a strong representation of the company's vision to deliver a better customer service experience each time they choose to send flowers to Pune.
The brand's tagline, "when words are not enough," reflects the company's commitment to deliver high quality service to all customers. Following another recent service expansion to Bangalore, this new option is set to further improve the convenience of sending flowers and gifts to loved ones across India. Customers will be able to find the perfect arrangement at home or on the go, and have them delivered nearly anywhere at an affordable price. Floweraura's mission is to provide peace of mind for busy customers through its vast product selection and timely and affordable delivery.
"If you have family and friends in Pune, sending the perfect bouquet, cake, or gift to them in a timely manner is no longer a challenge," says Himanshu Chawla, co-founder of Floweraura.
Floweraura's online flower delivery represents an all-in-one model for flower delivery, including same-day and late-night services - something not yet widely available in India. Its secure website has been designed to streamline the browsing and buying process for customers, making it easy to quickly purchase items and schedule deliveries on a tight deadline. The site features a vast selection of uniform or mixed bouquets, which are handcrafted to order by experienced florists. It also offers the ability to call in or chat online with a Floweraura representative for immediate service with orders, planning, or suggestions for delivery. With the overwhelming success of its service expansions thus far, Floweraura is preparing to add even more cities to its delivery network in the coming months.
"Attention to detail is Floweraura's forte and that is one of the reasons I keep coming back for more" said Anmol Singh, one of Floweraura's regular customers. "All I need to do is go online, select gorgeous flowers and pay! The guys at Floweraura take care of the rest," she added.
For more information about Floweraura's delivery cities and policies, please call its customer service line at 09650062220 or visit their website at http://www.floweraura.com/ Questions, ideas, and feedback are always welcome.