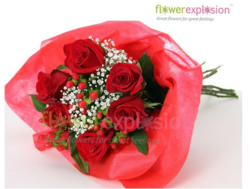 Cut To Order, Exclusive Blooms!
Wilmington, Delaware (PRWEB) July 01, 2012
When getting ready for her big event, the last thing any bride wants is for something to go wrong at the last minute. Many brides struggle finding the perfect wedding flowers for their big occasion. Fortunately, Flower Explosion has expanded its offering to include more than 100 different kinds of flowers, ensuring excited brides are never disappointed. To help make consumers aware, the company joined forces with LAD Solutions, a Los Angeles-based internet marketing firm, who will handle promotions.
"I ordered Patience David Austins for my wedding on March 17th. I requested delivery on Thursday, March 22nd, so that if something happened I would still have time on Friday to fix it. Then, as soon as I received the tracking number, I called FedEx to check the delivery time and make sure that the roses weren't left outside. I was really anxious, and when they finally arrived, they were gorgeous! Everything was carefully packed and roses had nets on each bloom. Everyone is still talking about the flowers!" said one satisfied customer, Elizabeth Ortiz.
Flower Explosion's offering of more than 100 different flowers means customers have something available to suit every occasion. All flowers are grown and harvested directly from farms in Ecuador, Colombia, Costa Rica, and Holland. To strictly ensure that it does meet customer needs, the company also offers custom floral arrangements. Customers can call Flower Explosion to discuss their needs. The company delivers to customers worldwide. Customers can expect to receive their wedding bouquets within 72 hours.
Among its more popular offerings are rainbow roses, carnations, mini callas, large callas, gerberas, and sunflowers. Individuals interested in the company should visit its website for further information.
About Flower Explosion: Flower Explosion is a flower supply company based in Wilmington, Delaware, and maintains a main logistics station in Quito, Ecuador. It has more than 25 farms throughout Ecuador, Colombia, Costa Rica, and Holland. The company focuses on high quality at a fair price and serves customers from across the globe.