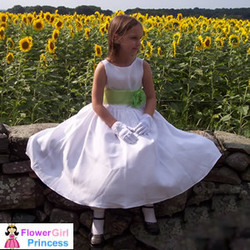 everything we carry is made by American craftsmen. That seems to be increasingly important to people
Waterbury, CT (PRWEB) September 2, 2010
FlowerGirlPrincess.com has opened its doors to the public for fittings in its bridal division for flower girl dresses and junior bridesmaid dresses. Beginning October 1st. brides can have private appointments scheduled at the FlowerGirlPrincess showroom at 462 Wolcott St. in Waterbury, CT located in the upper level above A Secret Garden Florist.
For the past five years the FlowerGirlPrincess mail order catalog had been located only online, however, because of the number of weddings with family members traveling along the eastern seaboard, hundreds of requests had been sent to browse the formal wear collection.
"Our garments are not only excellent quality, but nearly everything we carry is made by American craftsmen. That seems to be increasingly important to people, and we get over a dozen calls a day from customers asking if they can visit when traveling through Connecticut for American made formal wear. To date we've participated in hundreds of thousands of weddings ," according to Jennifer Tynan, owner of FlowerGirlPrincess.com, "Just about all the large national bridal stores import everything from China. That's perfectly fine because China does produce fine fabric, but we focus on developing a relationship with small family owned manufacturing businesses in New York City and Los Angeles. This allows us to keep the most unique boutique style designs and our prices lower than anyone else. When asked why open a store in a slow economy when when it takes so much energy to work on the catalog, Michelle, a store assistant smiles, "We do have over 300 designs listed in the catalog, but there is just so much more to offer. You never get tired of that expression when a bride finds that one style that fits the dress in her dream wedding. Private fittings really allow us to get into the brides imagination to find the perfect dresses for her wedding party. In the show room we have the opportunity to show all 10, 000 dress that are in stock, but also hundreds of new styles that we can have get through special orders." To make an appointment for a private fitting call 860-640-4320 or stop by 462 Wolcott St. Waterbury CT to browse the largest collection of little girls dresses anywhere.
###