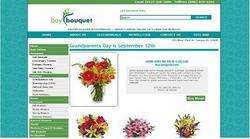 Today's consumer wants to know the company from whom they are buying. Florists with personalized websites fare better in the local arena.
Paragould, Arkansas (PRWEB) October 28, 2010
For many florists, developing an online presence can seem like a daunting task. With competition coming from order gathers and even wire services like Teleflora and FTD, it is challenging for local florists to develop a strong web presence. Flower Shop Network premium website designs make it easier for local florists to brand and establish themselves locally online.
Creating a unique online experience for customers will no longer be a problem. The new premium websites are about the florist being in control. Florists can choose from hundreds of different color and layout combinations. Target holiday banners, dual color-schemes and background choices will result in a distinctive look. Florists will also have the ability to enhance product selections by uploading their own floral designs and customized pricing. Premium websites also offer the ability to control the navigation and content of the website allowing for maximum success, because each site will stand out as its own personal design.
"Florists need to take control of their local market online to be successful. It is Flower Shop Network's job to see that florists have the tools available to be successful and the new premium websites are just one of the tools we offer," explains Brock Atwill, President of Flower Shop Network.
About Flower Shop Network
Flower Shop Network (http://www.flowershopnetwork.com) is a directory of local florists located in the United States, Canada and Puerto Rico. Many online florist directories connect consumers with a telemarketer who takes the order, subtracting service fees and commissions, and passes the order on to a local florist at a reduced value to the customer and florist. But Flower Shop Network actually connects people with real local florists. Flower Shop Network lets people search for real florists locally.
Media Contact
Jackie Branch
103 Monroe
Paragould AR 72450
870-215-5444 ext 134
jbranch(at)flowershopnetwork(dot)com
# # #