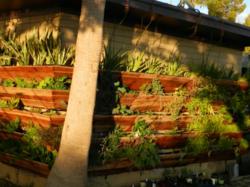 "People want to be able to feed their families with food that's close to them, close to their fingers."
Phoenix, Arizona (PRWEB) January 31, 2013
Flower Street Urban Gardens specialize in vertical growing systems that adds dimension, depth, and breathes a natural vitality that can only come from natural organics.
The new modular design of Flowers Street Urban Gardens allows for a wealth of possibilities for the architecture of a home.
From a design standpoint, the natural color and contour of organic redwood serves as a solid accent for many contemporary home designs.
In the case of a cinderblock wall application the texture of redwood goes a tremendous way in warming up a cold lifeless surface like a block wall.
The cinderblock wall application aside from being the most common application is also the perfect example of utilizing the readily available space that many have in an urban environment, putting it to work with an efficient, sustainable and beautiful system.
The issue of sustainability is a two-fold concern for Flower Street Urban Gardens.
First and foremost, sustainable design is a pervasive element of the Flower Street Urban Gardens system, the materials selected for construction are chosen with an eco-friendly conscience and vision for how those materials will hold up in a practical terms.
The best example of this would return to the redwood being that it holds up through rain or shine: its sun tolerant, it doesn't mind getting wet, and bugs don't eat redwood. For this alone the system ages with the passing of seasons and will last for decades.
Another equally important part of sustainable living transcends material consideration or construction for Flower Street Urban Gardens and ties in with a very large movement and respective market that is opening up.
People want to be able to feed their families with food that's close to them, close to their fingers. They don't want to guess what's being put in their food in terms of processing or pesticides, they want fresh organic food that doesn't travel hundreds of miles to make it to their plate.
With the new patent pending design Flower Street Urban Gardens offers a system that can grow all types of veggies including root vegetables, which require more depth that most plants to be able to root properly.
By combining multiple units, the possibilities really become endless in terms of how much growth you can garner and the impact the gardens make on homes highlights an architectural design quality that is simply stunning.
Flower Street Urban Gardens customers are reporting back exciting feedback and prosperous growth.
Invite Flower Street Urban Gardens to install a living wall and bring valley homes to life!
Contact Alex at 602-327-6560 with any questions and visit us at flowerstreeturbangardens.com