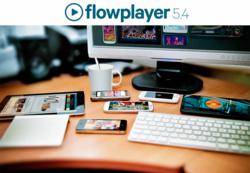 Espoo, Finland (PRWEB) April 16, 2013
Flowplayer today announced Flowplayer HTML5 version 5.4. Flowplayer is a HTML5 video player for websites, and version 5.4 puts the focus on mobile devices. It is an exciting time for mobile videos, but making them work across different devices can be frustrating. Flowplayer's goal is to let video publishers enjoy all the excitement while Flowplayer takes care of the technical side.
Flowplayer HTML5 was first introduced October 2012. Since then it has gained major popularity among website owners and web developers, and is currently used in thousands of websites around the world. Version 5.4 is the biggest release since the initial release in October 2012.
What is new in 5.4

Support for Chrome on iPad
Support for Windows Phone
Support for Firefox on Android
New touch interface with a playhead
RTL (Right-To-Left) support
Playlist configuration via JavaScript
Extended native fullscreen support
Opt-in for Apple Airplay
Tons of bugfixes and enhancements
Flowplayer HTML5 key features
Timeless UI design with three beautiful skins built-in
Fluid layout: The only completely responsive video player in the market
The Flowplayer Designer with automated code output makes customization of the skins super easy
Customizable start and end screens make product showcases as well as other video presentations slick and interactive
Unlimited number of players on one page without compromising performance
Complete feature set: Google Analytics, cuepoints, native full screen, keyboard shortcuts, subtitles, slow motion playback, random seeking in the timeline, retina-ready graphics
Video Playlists with CSS styleable layouts
98% browser coverage
Pricing and Availability
Flowplayer 5.4 is available for immediate download at flowplayer.org. The Free version displaying Flowplayer branding is available at no cost. The commercial version with the Flowplayer logo removed and custom branding enabled costs USD 95 per domain, with multi-domain licensing options available.
About Flowplayer Ltd.
Flowplayer Ltd was founded in 2007 and their first product Flowplayer Flash proved to be a major hit. The free version received more than 2000 downloads per day during it's peak in 2010.
Recently, however, Flash has slowly been taken over by HTML5 based video and Flowplayer HTML5 was released to meet this demand at the end of 2012. Flowplayer HTML5 is quickly gaining popularity, with download numbers and sales on a continuous rise.
Flowplayer Ltd. is headquartered in Espoo, Finland, and currently employs four people in Finland, two in Germany, one in USA, and one in India.
Links